By Katina Sayers
Here's what Katina ate before a mid-week Training Race in July:
Breakfast: Katina's version of a Green Goddess Smoothie
Green tea
A splash of coconut milk
A splash of apple juice
1 tsp of spirulina
1/3 avocado
1 tablespoon of flax meal seed
A handful of baby spinach
1/3 cup of organic strawberries
1/3 cup of organic blueberries
Mid-Morning Snack: 1 red plum (in season right now and delicious!)
Lunch: 3 oz baked chicken, 1 cup steamed broccoli, ½ cup quinoa with veggies and chickpeas, ¼ cup of corn cut-off the cob (leftovers from last night), and 2 tablespoons hummus
Pre-race: sipped on 1 bottle of electrolyte drink mix and ate 1 rice cake with 2 tablespoons sunbutter and ½ sliced banana about 1-1 ½ hours pre-race
On the start line: 1 Clif Block Chew  **Can be purchased at Fleet Feet Syracuse!
Post-race: Oxylent Sport Recovery Drink and other ½ of banana and 1 slice of watermelon.
Too late for complete dinner since I got home late: I munched on 1 Picky Bar and sipped on herbal tea as I unloaded my gear; I had bigger breakfast the following morning.  **Picky Bars can be purchased at Fleet Feet Syracuse!
Constantly sipped on water throughout the day.
Monthly Recipe: Summer Tomato Gazpacho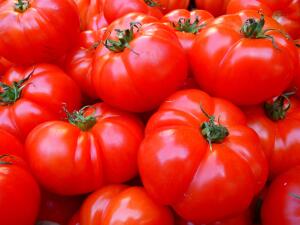 Source: Eating Well
Prep time: 25 minutes
Servings: 6
Ingredients:
3 pounds of Heirloom Tomatoes, course chopped
¾ C red pepper, chopped
¾ C cucumber, chopped
2 medium cloves of garlic, chopped
1 tsp salt
2 tbsp sherry vinegar
4 tbsp extra virgin olive oil and more for garnish
2 C stale country bread, cubed into bite-size pieces OR breadcrumbs
Gherkin or English cucumbers for garnish
Ground pepper for garnish
Directions:
Combine tomatoes, bell pepper, cucumber, garlic and salt in a large bowl. Add vinegar, 1 tablespoon oil and bread and toss to combine. Let stand at room temperature for 1 hour or refrigerator overnight.
2, Transfer half of the tomato mixture to a food processor. With the motor running, slowly add 1 ½ tablespoons oil and process until chunky for a rustic gazpacho or puree for a smooth one. Transfer to a bowl. Repeat with the remaining tomato mixture and 1 ½ tablespoons oil.
Garnish and top with cucumber slices, pepper and more oil, if desired.
Variations:
Make it gluten-free by eliminating the bread completely or use gluten-free bread or breadcrumbs.
Strain through a fine sieve over a large bowl for a smoother texture.
Sub out red or white wine vinegar for sherry vinegar.
Garnish with chopped avocado and cilantro.