Eating on the Run: Healthy Pizza Combinations                           
Source: Cook Smarts
For an easy week night meal, try homemade pizza! It's a great way to bring the family together and it's easy to customize each pizza for individual preferences. To keep it healthy, reduce the amount of meat and/or cheese and increase the amount of veggies. Add a salad on the side for a complete meal. Skip the deep fried wings!
In the kitchen and pantry, have on hand your favorite fresh or frozen pizza crust or dough, or flat or pita bread, pizza sauce, and mozzarella cheese. Use leftover veggies in the 'fridge (fresh or roasted) and layer it up! Consider purchasing a pizza stone which evenly cooks the crust and draws out any extra moisture. If not, a regular cookie sheet will work. The entire family can join in the assembly process. Cook on high heat (about 400-450 degrees – cooking times will vary according to your oven) about 10-12 minutes.
To get you started, here are some good pizza combinations:
**Feel free to omit meat from any of the following combinations for a vegetarian-friendly meal.
Margherita: Tomato sauce, Fresh mozzarella, and fresh basil
Classic Combination: Tomato sauce, mozzarella, pepperoni, green peppers, sliced mushrooms, and black olives
Spinach & Artichoke: Tomatoes, mozzarella, artichoke hearts, baby spinach, minced garlic, and sun-dried tomatoes
Asparagus Prosciutto: Tomatoes, mozzarella, prosciutto, asparagus, and lemon zest
Italian Veggie: Tomato sauce, mozzarella, diced eggplant, roasted red peppers, black olives, capers, and parmesan cheese
Spanish: Tomato sauce, queso fresco, chorizo or ham, sliced mushrooms, sliced red onions, parsley, and paprika.
Caprese: pesto, fresh mozzarella, sliced fresh tomatoes or sun-dried, basil, and balsamic vinegar
Southwestern: BBQ sauce, Mexican cheese, ground pork or sausage, black beans, corn, diced fresh tomatoes, sliced red onions, and cilantro
Taco: Refried beans, Mexican cheese, ground beef or chorizo, black olives, diced fresh tomatoes, shredded lettuce, and avocado. Finish with salsa.
Ironman: hummus, fresh mozzarella, parmesan, roasted butternut squash, and sliced shallots  **Katina's Top Pick
Rosemary Chicken: Fontina cheese, rotisserie chicken, roasted potatoes, rosemary, sliced mushrooms, and arugula
Greek: feta, Kalamata olives, sliced red onions, fresh dill, and shredded lettuce


Eating on the Run: Make Weeknight Meals Easier by Using a Meal Template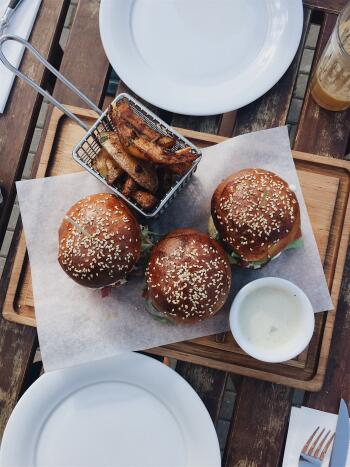 Most people are familiar with the concept of meal planning, but let's take it up a notch this month and learn more about the meal template. I personally call it "eating by theme." For instance, most people are familiar with Taco Tuesday. Tacos are the main theme that the meal is built around and depending upon your mood, you can change up the taco ingredients to your personal liking. To keep things simple on busy weeknights, make a meal plan for the week (or entire month) and assign each day a theme. Keep the themes consistent for a month or two and then rotate in some new themes. As you might imagine, there's a lot of simplicity (i.e., no stress) in this as well as variation (i.e., lots of creativity). In the end, meal time should not be stressful, but a time when families can come together, eat, and share. Always add a little vitamin L (you know, vitamin Love) to your cooking and nourish the body and spirit through your meals.
Stay calm and taco on, my friends.
Here are some of my favorite meal templates:
Meatless Mondays                 
Stir Fry Night                          
Casserole Night                      
Taco Tuesday                         
Sandwich Night                      
Tapas Night
Try Day Friday                        
Grain Bowl Night                   
BBQ Night
Soup-er Sunday                      
Pizza Night  **See above article for pizza combinations
Pasta Night                             
Slow Cooker Night
Salad Night                             
Breakfast for Dinner
Chicken Night                         
Seafood Night  **Suggestion: eat fish 2x a week
Rice Night                              
Burger Night
Nutrition in the News: The Best Diets According to US News & World Reports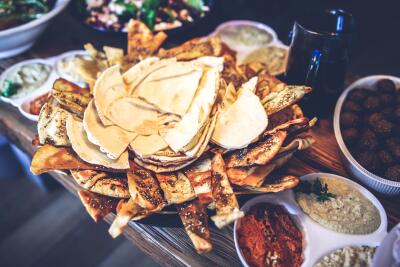 It's easy to be confused about the latest and greatest trends in nutrition when we are bombarded with news and information at every turn.  I studied over 100 dietary theories in my program of study, so it's easy for me to find merit in some dietary approaches over others, but for the common person who just wants some clarity in the sea of dietary approaches and then make simple lifestyle changes, I recommend readers to turn to the yearly Diet Rankings by U.S. News and World Report (see January 2, 2019 post). Every January, the dietary rankings are published by category. Each diet is assessed based on a set of data that is further reviewed by doctors and nutritionists. This list is a good place to start to help you move forward with your nutrition and health goals.
Here is a partial list of the categories and top diets from the 2019 report:   
Best Diets Overall
Mediterranean
DASH
Flexitarian
Best Commercial Diets
Weight Watchers  (note: eat and prepare your own food)
Jenny Craig (note: eat their prepared meals)
Nutritarian
Best Weight Loss Diets
Weight Watchers
Volumetrics
Best Diets for Healthy Eating
Mediterranean
DASH
Flexitarian
Easiest Diets to Follow
Mediterranean
Flexitarian
Weight Watchers
My top pick is the Mediterranean diet for overall health. Couple this diet with the lifestyle behaviors found common to the Blue Zones and you've got a sure fire formula for good health and nutrition, and quality of life. In the end, the best diet may just be paying attention to your body. So don't feel trapped into a diet if it doesn't feel right. Try something new!  
Katina Sayers is the owner/operator of Katina's Nutritional Coaching Corner.   She has an extensive background in health and education that began with degrees in exercise physiology, health and physical education, community health, and culminating with a doctoral degree in curriculum and instruction.  She completed an advanced certificate of study in Integrative Nutrition and Health Coaching from the renowned Institute for Integrative Nutrition (IIN) in New York City. For the last four years, she has worked one-on-one with clients, presented a multitude of nutrition topics for large and small audiences, contracted with businesses to implement worksite wellness initiatives, and currently manages day-to-day food service operations at a local non-profit agency, as well as directs activities related to nutrition and health.  Katina can be reached at ksayerswalker@gmail.com.