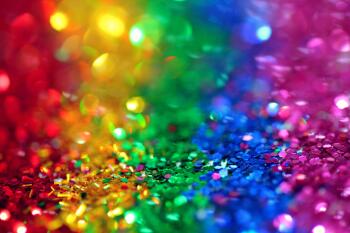 Traditional St. Patrick's Day meals include combinations of corned beef, cabbage, potatoes, carrots, Irish soda bread, and Shepherd's Pie. This simple meal's history tells a rich story of the Irish people, the land, and available food sources at that time of year in Ireland. This is an easy meal to cook at home in the crockpot or pick-up at your favorite Irish restaurant in Syracuse.
This year, let's change-up our St. Patrick's Day meal by eating the colors of the rainbow for good luck. Challenge for readers: incorporate more colorful and nutrient-dense foods not only on St. Patrick's Day, but throughout the month of March. Those deep rich colors translate to more vitamins, minerals, and antioxidants.
Eat the colors of the rainbow for good luck and look for the pot 'o gold at the end of the rainbow!
Red

Orange

Yellow

Green

Blue/Purple

Red Peppers

Radicchio

Radish

Tomatoes

Beets

Berries

Red Potatoes

Apples

Red Grapes

Orange Peppers

Oranges

Sweet Potatoes

Cantaloupe

Tangerines

Butternut Squash

Carrots

Apricots

Yellow Peppers

Yellow Carrots

Pineapple

Mango

Corn

Wax Beans

Papaya

Peaches

Bananas

Summer Squash

Lemons

Sugar Snap Peas

Cucumbers

Zucchini

Olives

Lettuce

Kiwi

Broccoli

Cabbage

Limes

Purple Yam

Purple Carrots

Eggplant

Plums

Forbidden Rice

Blueberries

Blackberries

Concord Grapes
 Eating on the Run: Love Your Blender                                              
Source: The Blender Girl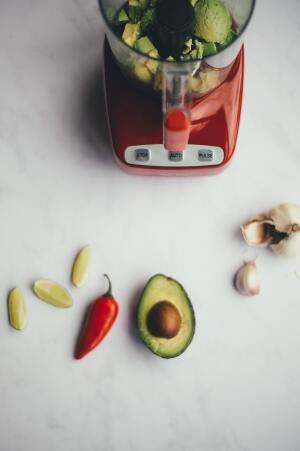 Time is a precious commodity these days. Trying to fit in work, training, and family responsibilities leaves us with little time to prioritize meal planning and food preparation. Too often we resort to take-out, fast, or packaged convenience foods which are rarely healthy. We are literally eating on the run. With that in mind, let's turn to a common kitchen appliance to save the day – your blender! The blender can be your best friend when it comes to preparing easy meals that are nutritious and healthy. If you're concerned that I'm proposing a full repertoire of pureed food, think again. A good blender has multiple settings and performs multiple functions which saves time chopping, slicing, and dicing. If you don't have mad cooking skills, the blender levels the playing field in the kitchen. You can create juices, soups, sauces, dips, smoothies, plant-based milks, appetizers, desserts, side dishes, and main meals. Food made with the blender IS fast and healthy food.
One of my favorite "blenders" is Tess Masters, a.k.a., The Blender Girl. Look for her cookbooks at your favorite retailer or find recipes on her website or find her on Facebook.
According to Masters, here's a sample of what you can whip up in your blender:
Plant-based milks (soak nuts, seeds, and grains before blending)               
Salsa
Pesto (use with pasta or vegetables)                                                             
Bean dip
Cream of cauliflower soup                                                                            
Gazpacho
Potato salad                                                                                                   
Socca
Smoothies                                                                                                      
Chia seed jam
Chocolate torte                                                                                              
Salad dressing
Pasta red sauce                                                                                              
Veggie burgers
Crepes, pancakes                                                                                           
Chimichurri
Pudding, mousse                                                                                            
"Nice cream"                                                                                                 
** Katina's Top Blender Picks: Vitamix and KitchenAid. This is one of those items where you get what you pay for, so don't be afraid to spend a little more on an appliance that will stand the test of lots of kitchen time!    
Katina Sayers is the owner/operator of Katina's Nutritional Coaching Corner.   She has an extensive background in health and education that began with degrees in exercise physiology, health and physical education, community health, and culminating with a doctoral degree in curriculum and instruction.  She completed an advanced certificate of study in Integrative Nutrition and Health Coaching from the renowned Institute for Integrative Nutrition (IIN) in New York City. For the last four years, she has worked one-on-one with clients, presented a multitude of nutrition topics for large and small audiences, contracted with businesses to implement worksite wellness initiatives, and currently manages day-to-day food service operations at a local non-profit agency, as well as directs activities related to nutrition and health.  Katina can be reached at ksayerswalker@gmail.com.