Is Chicken just as Bad for Your Heart as Beef?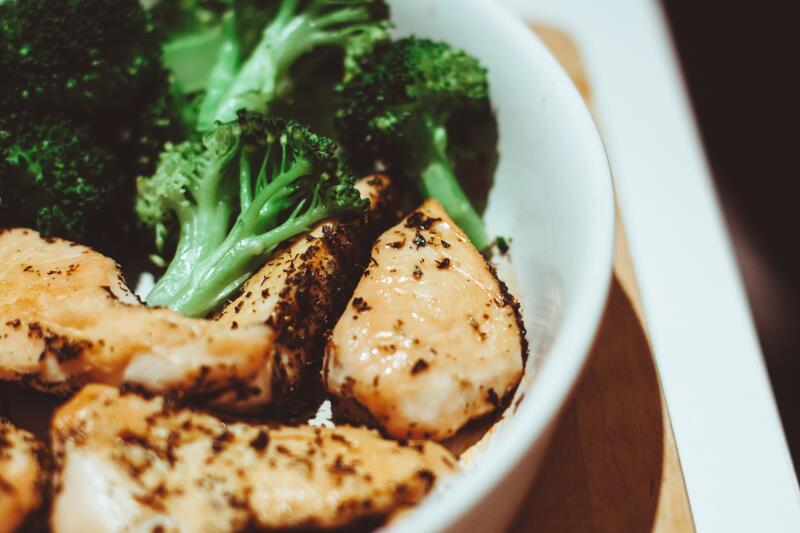 When it comes to protein sources, many people choose chicken over beef based on the belief that red meat contains higher amounts of saturated fat and cholesterol, and therefore, unhealthier than chicken. While some of this holds true, a recent piece of research may lead you to rethink your protein option. When research participants ate high amounts of chicken or beef as opposed to equal amounts of plant-based protein, their blood cholesterol levels increased the same. That is, chicken had the same effect on cholesterol levels as beef. According to researchers, it's important to watch out for saturated fat no matter the protein source. 
So what ARE you supposed to eat?
The American Heart Association (AHA) recommends getting protein from a mix of animal and plant-based foods, keeping a healthy weight, and exercising 150 minutes per week for heart health. Keep cholesterol intake to no more than 300 mg per day. When possible, take a plant-slant approach to your meals.
Katina's Simple Trick:
Follow the national trend, "Meatless Mondays," and try out some new recipes. This is the perfect time of year to pick-up fresh, local, colorful produce at the farmers market!
Or use this simple trick -- 
Build your plate/bowl with ½ veggies first before you add anything else to guarantee you get plenty of veggies! 
---
Katina Sayers is the owner/operator of Katina's Nutritional Coaching Corner.   She has an extensive background in health and education that began with degrees in exercise physiology, health and physical education, community health, and culminating with a doctoral degree in curriculum and instruction.  She completed an advanced certificate of study in Integrative Nutrition and Health Coaching from the renowned Institute for Integrative Nutrition (IIN) in New York City. For the last four years, she has worked one-on-one with clients, presented a multitude of nutrition topics for large and small audiences, contracted with businesses to implement worksite wellness initiatives, and currently manages day-to-day food service operations at a local non-profit agency, as well as directs activities related to nutrition and health.  Katina can be reached at ksayerswalker@gmail.com.