In-Season Right Now: Blueberries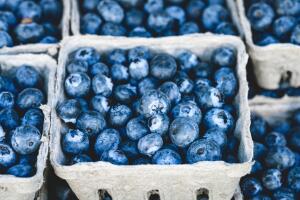 Blueberries are a tasty summer treat that are one of the most nutritious, antioxidant rich fruit in the world. In the U.S., blueberries are in season from mid-May through August. Right now, they are in the height of the season! Blueberries are native to the East Coast (especially the Mid-Atlantic Region) and along the Canadian border, and grow on low-spreading bushes. Wild blueberries are smaller in size than their cultivated counterparts, but pack a higher antioxidant concentration. New Jersey is known as the "blueberry state" so look for packages at the store with this shipping origin.  
Choose blueberries that are firm, uniform in size, and deep in color with silvery or white sheen. Discard any shriveled or moldy berries.  
Health Benefits                                                                                                                               
These little blue gems are not only super tasty, but pack a punch when it comes to health benefits. Anthocyanin – the antioxidant that gives blueberries that blue hue – provides a high dose of cell-protection and inflammation fighting properties. In the world of nutrition, color represents vitamins and minerals so build your plate/bowl everyday with the colors of the rainbow.
Squeeze in a few servings of blueberries every day for these health benefits:
High in antioxidants                                                       
Reduce inflammation
Help fight cancer                                                             
Support digestion
Support weight loss                                                       
Promote heart health
Boost brain health
Ways to Eat Blueberries
Blueberries come in many forms. Buy them fresh at the store and eat within a week. They don't have any pits and they do not require peeling, so just rinse right before you are ready to serve them. Any sooner, you risk soggy, mushy berries. Remove stems and leaves before eating. If you are more of a smoothie person, look for them in the freezer section. Blueberries go through a flash freeze, so there is no concern about loss of nutrients. You can also find them dried or canned, but in this form, you are likely to get more sugars. Opt for organic blueberries as your budget permits to reduce exposure to pesticides. If you are baking with blueberries, gently add berries to batter as the last step before baking. Fresh berries will not bleed unless their skin is torn or broken.
Enjoy blueberries in or on: cereal, pancakes, waffles, jam/jelly, oatmeal, yogurt, on salads, as snacks, and in baked goods such as muffins, cobbler, pies, and cakes.
Katina's Pick: Trader Joe's Frozen Wild Blueberries.
Nutrition Facts (For 1 cup of raw blueberries):
84 calories
21 g of Carbohydrates
1 g of Protein
.5 g of Fat
3.6 g of Fiber
High in Vitamins B, C, and E
High in minerals manganese and copper
Katina Sayers is the owner/operator of Katina's Nutritional Coaching Corner.   She has an extensive background in health and education that began with degrees in exercise physiology, health and physical education, community health, and culminating with a doctoral degree in curriculum and instruction.  She completed an advanced certificate of study in Integrative Nutrition and Health Coaching from the renowned Institute for Integrative Nutrition (IIN) in New York City. For the last four years, she has worked one-on-one with clients, presented a multitude of nutrition topics for large and small audiences, contracted with businesses to implement worksite wellness initiatives, and currently manages day-to-day food service operations at a local non-profit agency, as well as directs activities related to nutrition and health.  Katina can be reached at ksayerswalker@gmail.com.