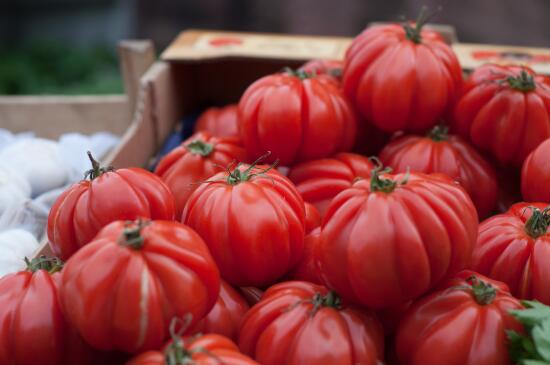 By Katina Sayers
Who doesn't love a ripe, fresh tomato straight off the vine? In CNY, it's tomato season, so let's learn a bit more about this versatile and diverse fruit that adorns so many popular dishes and recipes. Yes, that's right, tomatoes are technically classified a fruit despite the popular sentiment that it is a vegetable. There are many different types of tomatoes. They vary in flavor, texture, and size. Grape or cherry tomatoes are the smallest in size, whereas beefsteak tomatoes are hefty. In the mid-range, look for cocktail tomatoes, Roma, and green tomatoes.
Tomatoes can be eaten as a snack or turned into a sauce, cooked in stews, baked in casseroles, sliced and diced into salads, used as a sandwich topping, stuffed and then broiled, transformed into salsa, and sautéed on the stove top.
At the store or farmers market, look for unbruised, but soft to the touch tomatoes as a sign of ripeness. A ripe tomato should have a fragrant, pleasant scent. Heirloom and organic tomatoes are the most expensive and grape and cherry tomatoes are the least expensive.
Place tomatoes on the counter top at room temperature until they ripen and then transfer to the refrigerator to extend their life a few more days.
Nutrition Information: 1 Medium Tomato
Calories: 22
Water Content: 95%
Protein: 0.9 g
Carbs: 3.3 g
Fat: 0.2 g
Sugar: 2.6 g
Fiber: 1.5 g
---
This Month's Seasonal Recipe: Roasted Tomato & Corn Salsa                    
Source: Naturally Ella
Prep Time: 15 minutes
Cook Time: 60 minutes
Yields: 2 pints
Ingredients:
2 pounds fresh Roma or Cherry tomatoes (or a combination)
2-3 gloves Garlic
1 Serrano Pepper
1 Large Onion
2 Tbsp Olive Oil
2 ears of sweet corn
Juice from 1 lime
1 Cup Cilantro
Salt and pepper to taste
Instructions:
Preheat oven to 400ºF.
Slice tomatoes in half and place on a baking tray. Roughly chop the serrano pepper, garlic, and onion. Toss with 1 tablespoon of olive oil and sprinkle over tomatoes. Place in over and roast until everything is soft and lightly browning, 45-55 minutes.
Remove corn from cob. Easiest way to do this is remove husk and place perpendicular in a large bowl, carefully cutting downwards. Toss with remaining tablespoon of olive oil and place on a separate baking tray. Roast until lightly browning, 15-20 minutes.
In a food processor, combine roasted tomato mixture and cilantro. Pulse until combined. Squeeze in lime juice and salt, pulsing a few more times. Remove, place in a bowl, and stir in roasted corn.
Serve with chips or with your favorite fajitas, tacos, or burritos and enjoy!
Alternative Option: If you don't have time to roast the tomatoes, corn, peppers, garlic, and onion, this recipe can be done with all fresh ingredients simply by combining ingredients into a food processor. Pulse until you achieve desired texture.