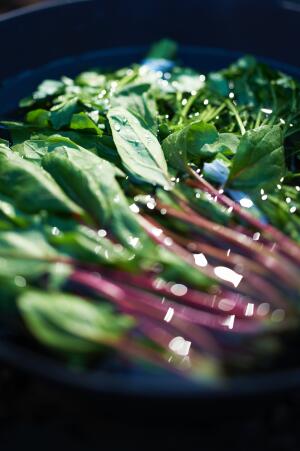 By Katina Sayers
Commit to eating more greens in 2019! Greens are loaded with antioxidants (a.k.a., free-radical fighters), and other beneficial nutrients like chlorophyll, folate, calcium, magnesium, potassium, and fiber. There are many types of greens and expect heartier greens to have higher nutrient content. Here are some of the most common greens:  spinach, kale, Swiss chard, turnip greens, collard greens, lettuces, dandelion greens, beet greens, endive, arugula, watercress, and cabbage. There in an incredible difference in taste across greens – some are bitter and peppery, whereas others are mellow and mild. The growing seasons vary, but expect to see delicate greens come to market in the spring and heartier greens late-summer.
Greens can be eaten raw or cooked in any combination but most importantly, rotate your greens – that is, one week buy spinach, the following week buy kale, etc. – as to prevent a build-up of oxalic acid (or oxalate) which may negatively impact the absorption of other minerals, such as calcium, in your GI system. Cooking greens will help break down oxalic acid and therefore, decreases the likelihood of oxalic acid build-up. Bottom line, most foods with oxalic acid are very healthy and nutritious, and avoiding them is not necessary.
Endurance athletes need more nutrients than less active people since they demand more from their body. Your diet plays a big role in your performance and recovery. Greens are smart addition to any diet since they are oxygenating and alkalizing, as well as protect against inflammation. These are key principles that can impact your performance and recovery.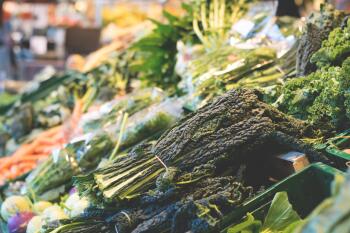 Ways to eat greens that are not salads:
Spinach with eggs (e.g., in omelets or frittatas)
Sautéed with garlic, mushrooms, and extra-virgin olive oil
Massaged kale salad – this is a hearty winter salad. Add some pomegranate arils for color! **Katina's top pick!
Throw arugula on top of a cooked pizza as it comes out of the oven
In a post-workout smoothie  
Baked kale chips – make at home or in the snack section at the supermarket
As a wrap -- wrap ground turkey or chicken and beans in a collard leaf or cabbage leaf
In soups – throw in a handful towards the end of cooking
Juice 'em with apples, celery, and ginger
In sauces – stir into marinara or bolognese sauce
Transform into pesto or chimichurri – just about any kind of green can go be used here
Make guacamole more green by stirring in a handful of chopped, wilted greens
In kimchi or coleslaw – cabbage is a tasty crucifer in these side dishes
As a garnish to beautify your plate or bowl
Katina Sayers is the owner/operator of Katina's Nutritional Coaching Corner.   She has an extensive background in health and education that began with degrees in exercise physiology, health and physical education, community health, and culminating with a doctoral degree in curriculum and instruction.  She completed an advanced certificate of study in Integrative Nutrition and Health Coaching from the renowned Institute for Integrative Nutrition (IIN) in New York City. For the last four years, she has worked one-on-one with clients, presented a multitude of nutrition topics for large and small audiences, contracted with businesses to implement worksite wellness initiatives, and currently manages day-to-day food service operations at a local non-profit agency, as well as directs activities related to nutrition and health.  Katina can be reached at ksayerswalker@gmail.com.