By Katina Sayers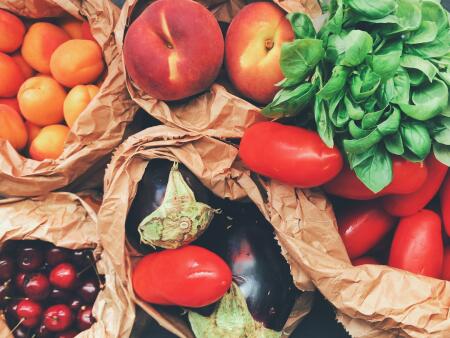 Keep the Pantry, Refrigerator, and Freezer Stocked
Eating healthy doesn't take a lot of time. Keep your pantry, refrigerator, and freezer stocked with nutritious foods that are easy to prepare and cook. Start by throwing out expired products and then restock your shelves with these items.
Grains (emphasis should be on whole grains): rice, pasta, couscous, quinoa, cracked bulgur wheat, tabbouleh, polenta, beans, lentils, corn, breads, bagels, pita bread, whole grain tortilla shells, English muffins, crackers, oatmeal, Farina, Wheatena, whole grain cereal bars, granola bars, muesli, pancakes, waffles
Fruits & Vegetables: potatoes, sweet potatoes, frozen and canned veggies, prewashed salad in bags or clamshells, mini carrots, precut vegetables and fruit, canned fruit, oranges, apples, bananas + other seasonal fruit, raisins, dates, and frozen 100% juice concentrates
Dairy: milk, yogurt, cheese, and cottage cheese
Healthy Oils & Fats: oils for cooking (olive, canola, and peanut), butter, mayonnaise, nuts, seeds, avocado, olives, nut butters
Protein Foods (animal or plant-based): chicken, lean ground red meat, cubed meat for kebabs and stir fries, cooked shrimp, lean deli meals (avoid nitrates and nitrites), packets or cans of tuna or chicken, canned chili, beans, frozen burritos, frozen bean or veggie burgers, eggs or egg substitute
Tip for Leftover Rice                             
Source: Sweet Peas & Saffron
Make a big batch of rice early in the week and then transform leftover rice later in the week into a delicious dish simply by adding a few ingredients. There's little additional prep work and most of these can be thrown together within a few minutes. Use a 2:1 ratio of water to rice. Rinse rice in a fine-sieved colander. For individuals with sensitive bellies, soak rice overnight in water with 1 tablespoon of apple cider vinegar (ACV). Just let it sit out on your counter top. Before cooking, rinse again and cook rice in a fresh batch of water. Soaking rice in water and ACV helps break down phytic acid which is a digestive enzyme inhibitor, while also increasing its alkalinity.
Egg Fried Rice (good for Chinese inspired meals)                                                    
Cilantro Lime Rice
Mexican Rice (mix in salsa)                                       
Lemon Herb Rice (good for Mediterranean inspired meals)
Golden Rice (seasoned with curry and turmeric)     
Pesto Rice (for Italian inspired meals)
Rice Pudding (makes a great GF dessert)                                         
Coconut Rice (for Thai inspired meals)
Katina Sayers has an extensive background in health and education that began with degrees in exercise physiology, health and physical education, community health, and culminated with a doctoral degree in curriculum and instruction. She completed an advanced certificate of study in Integrative Nutrition and Health Coaching from the renowned Institute for Integrative Nutrition (IIN) in New York City. For the last four years, she has worked one-on-one with clients, presented a multitude of nutrition topics for large and small audiences, contracted with businesses to implement worksite wellness initiatives, and currently manages day-to-day food service operations at a local non-profit agency, as well as directs activities related to nutrition and health.