A Healthy Thanksgiving, Friendsgiving Menu for Everyone
Plus: Buckwheat Pancakes Recipe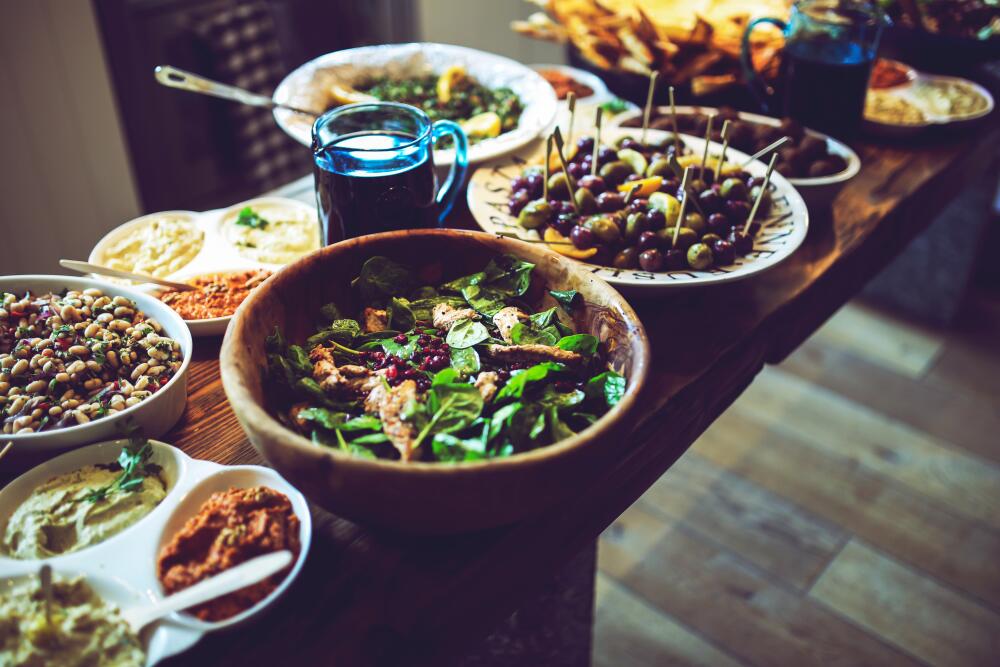 ** Pick & choose your favorites to make your own menu. Make sure there's something on the menu for everyone!
Herb roasted turkey
Baked Brussels Sprouts
Garlic & chives mashed Potatoes
Maple roasted sweet potatoes or roasted butternut squash
Roasted beet, apple, and goat cheese salad over arugula with a lemon vinaigrette
Healthy Green Bean Casserole
Roasted whole carrots
Cranberry-mandarin orange relish
Corn bread muffins
Chorizo, chestnuts, apples, and Brussels sprouts dressing or wild mushroom stuffing
Deep dish apple pie with cranberries
Apple Galette
Pumpkin pie
Purple sweet potato pie
Monthly Recipe: Buckwheat Pancakes (GF) 
Source: Fool Proof Living
Prep time: 15 minutes
Cook Time: 25 minutes
Total time:  40 minutes
Servings: Yields 12-15 pancakes
Ingredients:
1 C buckwheat flour (toasted or untoasted)
½ C almond flour
1 tsp baking powder
½ tsp baking soda
¼ tsp ground cinnamon
¼ tsp table salt
2 large eggs at room temperature
1 tbsp maple syrup (more to serve with the pancakes)
1 ½ C buttermilk, well-shaken
2 tbsp grape seed or canola oil
1 tsp vanilla extract
½ C pecans, coarsely chopped and more for garnish
½ C dried cranberries, coarsely chopped
Oil or butter for cooking pancakes
Directions
: 
1. Pre-heat oven to 200o degrees. Lightly spray a baking sheet with oil. Set it aside.
2. Sift together the buckwheat flour, almond flour, baking powder, baking soda, cinnamon, and salt in a mixing bowl. Set aside.
3. Whisk together eggs, maple syrup, buttermilk, and oil in a large mixing bowl.
4. Add the flour mixture to the wet ingredients and mix until just incorporated. Do not overwork the batter. Fold in pecans and cranberries. 
5. Heat a griddle or 12" non-stick skillet over medium-high heat. Brush with oil. Using a ¼ cup measure, portion out pancake batter leaving a couple of inches around each pancake. Let cook for 2-3 minutes (or until the bubbles break through), flip, and cook each pancake for another minute or until the edges are set. Repeat the steps with the rest of the batter. Keep cooked pancakes warm in the oven.
6. When ready to serve, garnish with pecans and drizzle with maple syrup.
---
Katina Sayers is the owner/operator of Katina's Nutritional Coaching Corner. She has an extensive background in health and education that began with degrees in exercise physiology, health and physical education, community health, and culminating with a doctoral degree in curriculum and instruction. She completed an advanced certificate of study in Integrative Nutrition and Health Coaching from the renowned Institute for Integrative Nutrition (IIN) in New York City. For the last four years, she has worked one-on-one with clients, presented a multitude of nutrition topics for large and small audiences, contracted with businesses to implement worksite wellness initiatives, and currently manages day-to-day food service operations at a local non-profit agency, as well as directs activities related to nutrition and health. Katina can be reached at ksayerswalker@gmail.com.