A Dish to "Pear" with the Holidays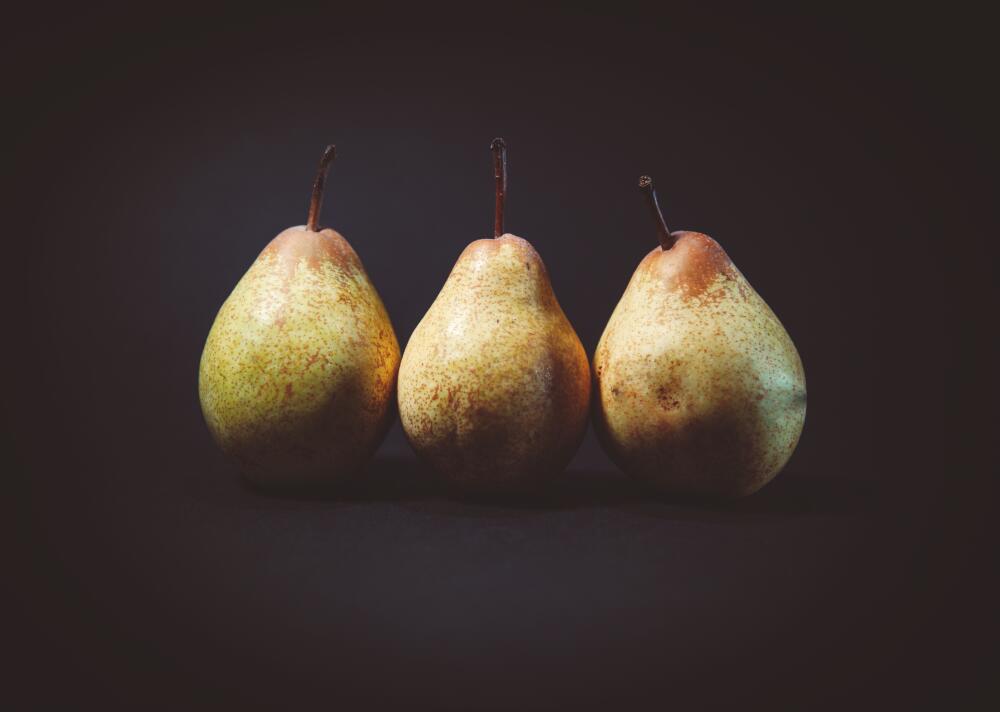 It's pear season and December is National Pear Month.
Pears are available year round which makes them a great choice during the winter months when other produce goes out of season. They are one of the most popular fruits worldwide. Here in the U.S., Oregon and Washington are the top pear-producing states. Pears can be enjoyed in many of the same ways as apples – you can eat them alone as a snack, chopped up in cereal or a salad, in a smoothie, as a baked dessert, in baked goods, and as a cooked sauce or preserve, jam, or chutney. 
Pears come in a variety of shapes and sizes, and common skin colors include green, yellow, golden, and red. The color of the skin indicates that the pears are rich in phytonutrients – the deeper the color, the more phytonutrients and antioxidants. Some of the most popular varieties are: Bartlett, Anjou, Bosc, Comice, Concorde, Seckel, and Forelle. 
Choose pears that are firm, unmarked, and unbruised. Ripe pears will be fragrant and give slightly to pressure. Store pears on your kitchen counter top until ripe and then store in the refrigerator for a few more days. Always wash pears before preparation. You can also purchase canned pears and this option is handy when fresh pears are not available. 
The Nutrition
An average sized pear is approximately 100 calories and a great source of fiber (about 6 grams), vitamin C, and because pears are a plant, they contain no cholesterol, sodium, and are fat-free. They also have a high water content which makes them refreshing post-workout. 
Fruit contains natural sugars mainly in the form of fructose. Unlike added sugars in food which typically spike blood sugar levels, pears are on the low end of the glycemic index, which means they do not spike blood sugar. In addition, due to the fiber content of pears, it will take longer to digest, therefore, leaving you feeling fuller longer.
There are a lot of health benefits associated with the consumption of pears. Research findings report that eating pears help people manage their weight, improve gut health, reduce the risk of heart disease, stroke, hypertension, along with fighting different types of cancer. 
Try out a new variety of a pear this month and then make a new recipe that includes them like pear kabobs with yogurt dipping sauce (see recipe below).
Monthly Recipe: Pear Kabobs with Yogurt Dipping Sauce
Source: usapears.org
** Note: This is a great appetizer or healthy dessert option for any holiday gathering!  
Ingredients:
6 Wooden skewers
1 Cup vanilla yogurt
2 Pears of your choice, cored, and cut into 1" cubes
2 Bananas cut into 1" slices
1 Can pineapple chunks, drained
2 Cups fresh strawberries, stems removed
Directions
: 
1. Thread the fruits onto the skewers – alternate pieces of pears, bananas, pineapple chunks, and strawberries. 
2. Serve the fruit skewers alongside the vanilla yogurt for dipping. 
---
Katina Sayers is the owner/operator of Katina's Nutritional Coaching Corner. She has an extensive background in health and education that began with degrees in exercise physiology, health and physical education, community health, and culminating with a doctoral degree in curriculum and instruction. She completed an advanced certificate of study in Integrative Nutrition and Health Coaching from the renowned Institute for Integrative Nutrition (IIN) in New York City. For the last four years, she has worked one-on-one with clients, presented a multitude of nutrition topics for large and small audiences, contracted with businesses to implement worksite wellness initiatives, and currently manages day-to-day food service operations at a local non-profit agency, as well as directs activities related to nutrition and health. Katina can be reached at ksayerswalker@gmail.com.
---