Sports Nutrition Tip of the Month: The Importance of Electrolytes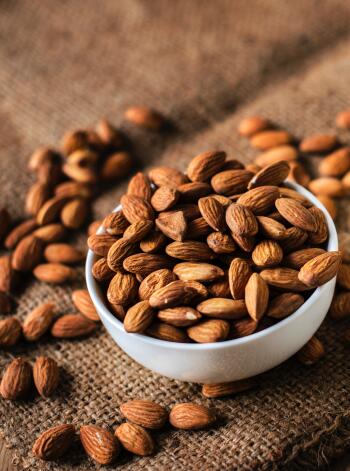 Electrolytes are minerals in the body that have special functions – from regulating your heart beat to allowing your muscles to contract so you can move. Major electrolytes include calcium, sodium, potassium, magnesium, phosphate, and chloride. (The most important electrolytes for athletes are sodium, magnesium, potassium, and calcium.) These crucial nutrients help regulate nerve and muscle functions, and balance fluid levels. You obtain electrolytes through food and drinking certain fluids while you lose them partially through exercise, sweating, going to the bathroom, and urinating. An electrolyte imbalance can cause serious negative symptoms.
Athletes tend to turn to energy gels, supplements, and sports drinks to replenish lost electrolytes. But before you go out and purchase products consider these whole foods as part of a healthy diet to get your electrolytes. Listen to your body and pay attention to body sensations, and adjust your diet accordingly. Enjoy these foods before or after your run!
Sodium – helps your body retain fluids, prevents dehydration, and prevents muscles from cramping up. The recommended intake is less than 2300 mg per day. (Note: the USDA is reducing this to 1800 mg later this year.)
Salt – 1 teaspoon contains 2300 mg of sodium  **Katina's top pick for flavor: Pink Himalayan Salt
Pickles – 1 cup of pickles contains 1900 mg of sodium
Pretzels – 1 ounce of hard, salted pretzels contains 500 mg of sodium
Potassium – helps maintain muscle mass and blood pressure, and regulates the body's fluid balance and muscle contractions. The recommended amount is no more than 4700 mg per day.
Apricots – 1 cup of dried apricots contains 1500 mg of potassium
Prunes – 1 cup of prunes contains 1400 mg of potassium
Bananas – 1 medium banana contains 422 mg of potassium
Tomatoes – 1 medium tomato contains 300 mg of potassium
Oranges – 1 medium orange contains 250 mg of potassium
Magnesium – increases bone density and strength, helps with muscle contractions, reducing anxiety, digestion, and keeping stable protein-fluid balance. The recommended amount is no more than 420 mg per day for men and 320 mg for women.
Pumpkin seeds – ½ cup of pumpkin seeds contains 170 mg of magnesium
Spinach – 1 cup of cooked spinach contains 160 mg of magnesium
Swiss chard – 1 cup of cooked chard contains 150 mg of magnesium
Lima beans – 1 cup of cooked lima beans contains 125 mg of magnesium
Calcium – helps build and maintain strong bones and teeth, helps muscles contract, nerve signaling, and aids in the clotting of blood. The recommended intake is 1000-1200 mg of calcium per day.
Parmesan cheese – 1 cup of grated parmesan cheese contains 850 mg of calcium
Almonds – 1 cup of almonds contains 385 mg of calcium
Milk – 1 cup of whole milk contains 300 mg of calcium
Collard greens – 1 cup of chopped, cooked collard greens contains 270 mg of calcium
Yogurt – 6 ounces of plain, full fat yogurt contains 200 mg of calcium
Kale – 1 cup of cooked kale contains 175 mg of calcium
Simple ways to solve electrolyte imbalances:
Drink enough water (but not too much)
Check medication side effects
Refuel after a hard workout
Consider supplementing  **Katina's Top Pick: Check out Hammer Nutrition Products, available at either Fleet Feet Syracuse location
Recipe: Mediterranean Wrap                                                                   
Source:  Eating Well
Ingredients:
½ C Water
1/3 C whole wheat couscous (or your favorite GF grain)
1 C chopped, fresh parsley
½ C chopped, fresh mint
¼ C lemon juice
3 Tbsp extra virgin olive oil (EVOO)
2 Tsp minced garlic
¼ Tsp salt, divided
¼ Tsp pepper, divided
1 pound of cooked, diced chicken tenders or chicken breast
1 medium tomato
1 C chopped cucumber
4, 10" tortilla shells (try sun-dried tomato or spinach wrap)
Instructions:
Bring water to boil and stir in couscous. Remove from heat, cover, and let sit for 5 minutes. Fluff with fork and set aside.
Combine in a bowl -- parsley, mint, lemon juice, EVOO, garlic, and 1/8 tsp of salt and pepper.
Stir parsley mixture into couscous along with cucumber and tomatoes.
To assemble wraps – spread ¾ C of couscous mixture into each wrap. Divide cooked chicken among the wraps. Roll wraps like a burrito, tuck in sides, and enjoy! 
Variations:
Spread a thin layer of hummus on the wrap before adding other ingredients.
Spread a thin layer of pesto on the wrap before adding other ingredients.
Add a few sun-dried tomatoes on top of the chicken before rolling up the wrap.   
Katina Sayers is the owner/operator of Katina's Nutritional Coaching Corner.   She has an extensive background in health and education that began with degrees in exercise physiology, health and physical education, community health, and culminating with a doctoral degree in curriculum and instruction.  She completed an advanced certificate of study in Integrative Nutrition and Health Coaching from the renowned Institute for Integrative Nutrition (IIN) in New York City. For the last four years, she has worked one-on-one with clients, presented a multitude of nutrition topics for large and small audiences, contracted with businesses to implement worksite wellness initiatives, and currently manages day-to-day food service operations at a local non-profit agency, as well as directs activities related to nutrition and health.  Katina can be reached at ksayerswalker@gmail.com.