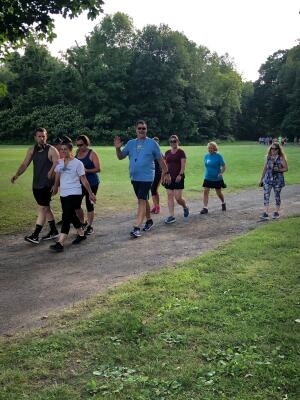 As we come off the long weekend in what you might feel is a holiday haze, ask yourself: how will you stay accountable this summer? There are picnics and BBQs, and maybe some extra nights out on these gorgeous summer evenings, but where are your dinner guests when it comes to maintaining your physical health? If you're lucky, maybe they are also your running and walking buddies!
If you are in search for some fitness-minded friends, look no further than Fleet Feet Running Club's No Boundaries Program. This summer's crew is filled with those who want to work toward a goal or maybe maintain what they achieved this spring, while also allowing themselves the freedom to let loose and have fun.
How can you give yourself both a fit and fun summer? Aside from the obvious, and signing up for the summer session of No Boundaries, which meets for just its second practice this Tuesday, July 9th, at Long Branch Park, you can look to the following rules I try to abide by when it comes to planning healthy summer activities.
When making plans with your running or walking pals, try to include some form of exercise into the day. And no, lifting a wine glass to your face does not count as exercise. Maybe an extra long walk to the restaurant, or meet for a run before drinks out on the patio. Do be aware of other diners and ask to be seated outdoors if you're a stinky mess.

Going to a picnic? Bring along a healthy food option you know you'll feel good eating, even if mixed with a few bites of the other goodies. Some of my favorites come from the Run Fast. Eat Slow. and Run Fast. Cook Fast. Eat Slow. cookbooks by Shalane Flanagan, also available at Fleet Feet Syracuse!

On those hot and busy days with no time to exercise, wake up a little early and get yourself out, even if it is just for 15-20 minutes. The rest of your day will thank you.

Just in case you forgot: Sign Up for the Summer 2019 Session of No Boundaries 5K Training! You'll join a great team, led by the greatest group of volunteer coaches I've ever met!
Don't miss out. You can still register for this summer's program. Check out www.fleetfeetsyracuse.com/training to learn more about NoBo and the rest of the summer training line-up!
Mallory Mitchell has been part of the Training Department at Fleet Feet Syracuse since 2012. As Head Coach of the No Boundaries Program, she enjoys the opportunity to introduce people to an active lifestyle and build confidence in themselves through running. She spends her time away from the store playing cello in the Magnolia String Quartet and enjoying time with family, friends, and her dog, Arnie. She can be reached at mmitchell@fleetfeetsyracuse.com.