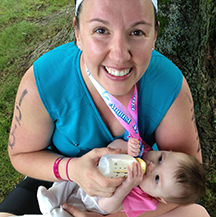 By Emily Kulkus
I was fitting a customer recently for a new pair of shoes and she asked me if was a runner. I found myself dancing around the question. Do I run? Yes. Do I run anywhere near as fast or as far as some of my colleagues here at Fleet Feet?  No way. But as I mumbled to answer her, she piped up and said, "Well in my book if you run at all, you're a runner."
So I'm a runner. And I'm also a mom. The older I get, the more I realize those are two things I'm pretty proud of since I work hard at both.
I'm excited to be able to use this space a few times a month to talk about being a running parent. But first, some disclaimers: I'm no expert and will never claim to be. I'm 37 years old, I've been running for a little more than 10 years and I have two small kids – Violet is 4 and Archie is 16 months old. I've done a few sprint triathlons, a few 15Ks and I ran the Mountain Goat once. (I'm glad I got that out of my system.) These days, I'm a pretty solid 5Ker. I like the distance, the events are fun and it's just about as much training as I can squeeze into a very full and fortunate family schedule.
I'll use this space to write about how running and parenthood collide – sometimes beautifully and sometimes not. I'd also like to use this space to answer your questions. Heck, it will be a good excuse to answer my own. (Note to self: Why does my back hurt after running with my jogging stroller?)
My miles and my munchkins have taught me more about myself than pretty much anything. The kids make me want to be a better runner and my runs help me be a better mom. I'm looking forward to sharing the journey with you.
And to all the moms out there: From all of us at Fleet Feet Sports, Syracuse, Happy Mother's Day! 
Email me at ekulkus@fleetfeetsyracuse.com