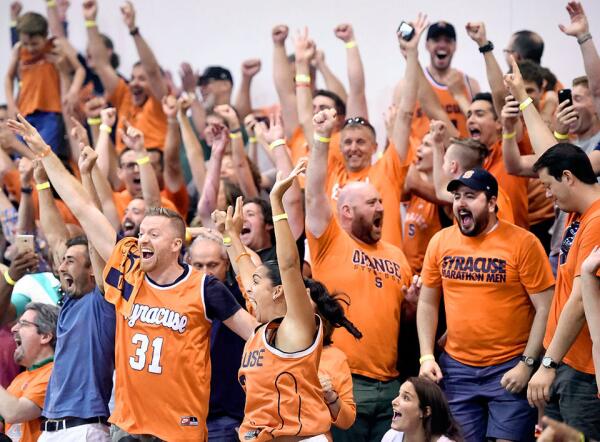 Photo Credit: Dennis Nett (dnett@syracuse.com)
By Ed Griffin
July is slipping away and there is still so much to do this summer. This week, our blog features a Syracuse theme covering sports, music, and running.
I watched bits and pieces of The Basketball Tournament this weekend, which features teams comprised of former college basketball payers, playing for a winners take all 2-million dollar prize. Our boys from Syracuse, named Boeheim's Army (former Orange players), are the number 1 seed in the tournament and watching them is a blast from the past. These guys can really play and won their first games to advance to the final sixteen in Atlanta next weekend. Go Orange or Army.
Did anyone catch the CBS Sunday morning news feature on Billy Joel? There he was, sporting his Syracuse University block S hat for much of the interview. Joel just celebrated his 100th performance at Madison Square Garden, performing for over 2 million fans in total. Meanwhile, the Piano Man has a record 7 performances at the Carrier Dome and the number 7 and his name hang from the rafters of the old Dome. Joel received an honorary doctorate degree from the University and contributed to the formation of the Billy Joel Fellowships in Composition scholarship program.
The Sunday morning place to be for a great run, is at the Fleet Feet Hot Feet run at Green Lakes State Park. This free summer run combines with our distance training program for distance runs that will prepare you for 5k, 10k, half-marathon and the full marathon distance. Led by Coach Michele and her excellent team of coaches, the weekly series is fun, supportive and friendly. You can't help but meet new friends, with over 150 people attending each week. 7:30 AM is "go time" for the run and we hope to see you there.
Finally, a few tickets remain for our special summer concert this Friday with Christian Lopez. $20 gets you the show, craft beer, soft drinks, pizza and snacks. We were excited to learn that one of the best electric guitar players in the country Dan Cohen has joined Christian's band and will be in Syracuse for the show on Friday. The show starts at 7 PM and last year was the best show of the summer. We are giving away a free pair of running shoes in a raffle and a few Fleet Feet Gift Cards!