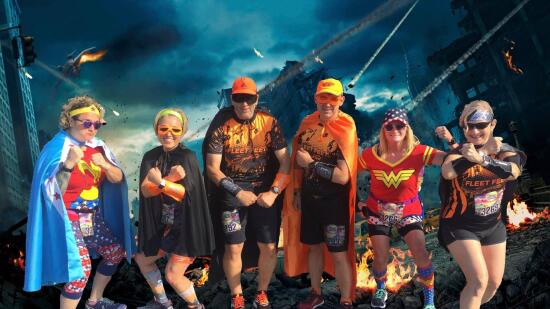 By Coach Michele 
"The best day to start anything was yesterday. Today is always the second best day to start."
I can't remember where or when I heard this quote but it's always stuck with me. The first part isn't very hopeful. There is not anything that you can do about the past.
The second part says, "Well, how about right now?" And think about it: If you start your path to fulfilling a goal today, then tomorrow you can say that you started working on your goals yesterday. This means means you actually started on the best day.
Fleet Feet Syracuse's Half & Full Marathon Training Program starts up again on Wednesday, July 11th. We train Wednesday nights at Onondaga Lake Park to get faster and Sunday mornings at Green Lakes to run further. In addition to addressing topics like pacing and nutrition, you'll receive a training plan full of recovery runs, cross training, and rest days to follow for the days that we're not running as a group.
The program has a nice mix of novice and veteran runners alike, from people who have never run further than a 5k to people who have trained for marathons with Fleet Feet for years. Along with Fleet Feet Coaches Michele (me) and Laura Walker, we have over a dozen dedicated volunteer coaches running every pace from 14:00-minute miles to 7:30-minute miles.
Mary Earl, along with her husband Gregg, started training with our No Boundaries program (begin to run 5k) back in early 2015. She was working with a personal trainer at the time and he left the gym she belonged to. She says she and Gregg needed something new. The couple have now run races from the 5k to half marathon distance and improve every race.
"I was focused on myself but after 2 sessions of NoBo, and seeing the support and the encouragement, it kept me going.  It turned into fun and socializing physical activity.  After I saw what I could do I wanted to increase distance.  The running community of Fleet Feet is one of the contributing factors of my success, along with my husband Gregg." - Mary Earl, Distance Training veteran
Nancy Weber (pictured second from the right in the photo above) just started running with our distance training program this year. She is also a member of the local chapter of Team Red, White and Blue, a community of military veterans and civilians who engage in physical activity - including running - together. Nancy says that while she still loves to log miles and race with Team RWB, she needed something more to focus and prepare her for her longer distance running goals.
"You just can't replace the benefits of running the speed workouts on Wednesday nights. And the nutrition, hydration and injury prevention guidance Fleet Feet's program offers has been an essential addition to the training I was already doing with RWB." -Nancy Weber, new to Distance Training in 2018
You can join over a hundred local runners striving to achieve their goals of running a half or full marathon this fall. And with access to the training program's Facebook community, you'll be able to share questions, ideas and concerns and learn from over 750 people who took the leap and can now say they started their long distance running journey at just the right time.
***Fleet Feet Distance is the Official Training Program for the Syracuse Half Marathon. Sign up before July 5th to be entered to WIN A FREE ENTRY into the Syracuse Half Marathon on Sunday, November 11th!