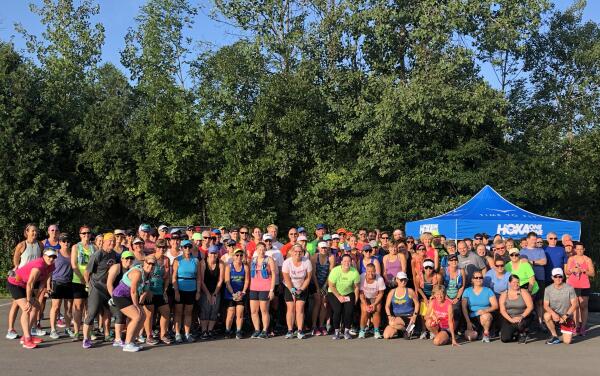 By Coach Michele Maciejewski
Let's just get it out there: Fall is coming and it just happens to be one of the best times of the year for running. The air is crisp and cool enough for comfortable long runs and the scenery just gets prettier every day. 
If you have always wanted to train for a half marathon, snag a new PR or run a race in your beautiful hometown, then there's no better race than the Syracuse Half Marathon. 
The course travels across the city from downtown, up towards Eastwood and down through the Inner Harbor area to showcase some of the best scenery in town. The race falls on Sunday, November 11th, making it the perfect date to cap off a successful autumn season of dedicated training.
Fleet Feet Running Club's Distance Program is the Official Training Program for the Syracuse Half Marathon. We already have a large group (see above) of runners gearing up for various races and building their base this summer. And we'd love for you to join us!
Beginning August 22nd (yep, that's next week!), we'll meet every Wednesday evening at Onondaga Lake Park for speed work sessions and every Sunday morning at Green Lakes for long runs. 
Throughout the 12-week program, we'll build mileage in a manageable and healthy way while discussing other important aspects of running strategy, such as injury prevention, nutrition and hydration and pacing.
No, training for a half marathon is not exactly easy. But dedicating yourself to 12 weeks of working towards this goal is so much more fun and effective when you do it with experienced coaches and 100+ of your closest running buddies. 
Like I said, the best season for distance running is right around the corner. So, let's go.