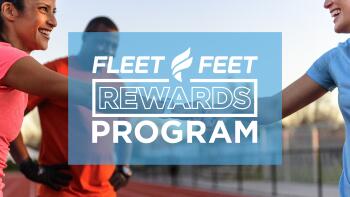 By Ed Griffin
Running with Fleet Feet just got better with the launch of our new nationwide App and Rewards Program and we want you to be a part of it.
Our Old Rewards Program was nearly 19 years old and we have jumped into this new App and Rewards program that allows you to be rewarded two ways:
Earn one reward point for each dollar you spend at any Fleet Feet Store or online at FleetFeet.com. When you reach 150 points, you will earn a $15 reward. You don't need a rewards card, you can track your points and rewards right on the App.
Also, earn 1 mile for every mile you run and earn up to 100 miles per month, just by running and linking your Garmin GPS Watch or Strava App. You can also earn miles by social engagement, by checking into our Fleet Feet Running Club events and other special store events with the App, on your birthday, and more. Miles can be redeemed for prizes, special event access, trips and more.
The Fleet Feet App is free and can be downloaded for either iPhone or Android devices. When you download the App, be sure to name either our DeWitt or Clay store as your home store and you will be able to track upcoming events and runs with us at Fleet Feet.
Running with us at Fleet Feet has never been easier or more rewarding.
Ed Griffin and his wife Ellen own Fleet Feet Syracuse, which they founded in May of 2000. Fleet Feet Syracuse has received National Recognition as a Top 50 Running Store in America 12 years in a row and was named Best Running Store in America in 2012. Ed enjoys helping the team at Fleet Feet and our customers achieve their fitness and professional goals. In his spare time, Ed speaks to companies and organizations on a variety of topics, walks his dogs, enjoys good music and is the family chef. He can be reached at ed@fleetfeetsyracuse.com.