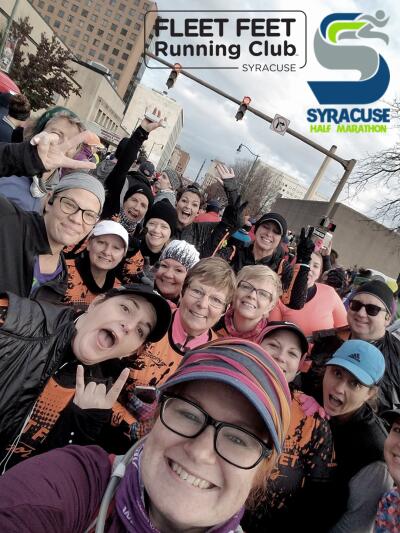 By Ed Griffin
We are on the brink of one of the most exciting local running weekends of the year. It is Syracuse Half Marathon Weekend and this year over 4,300 people have registered to take on this iconic race.
It is amazing how attainable running a half-marathon is. Make no mistake, it takes some work and dedication but if you allow yourself the time and get proper instruction, it is a great personal goal.
Hundreds of runners who trained with our popular Fleet feet Distance Program, will be taking on the 13.1 mile challenge this Sunday and with smiles on their faces. Enrollment for the 2019 Fleet Feet Annual Distance Membership is open and will be a decision you will benefit from for years.
For just $345, participants receive:
In-person twice a week training sessions
Daily workout schedule with coaching support
Free monthly yoga and cross training
Two free 25-minute NormaTec Recovery sessions
Monthly in-store discounts
Discounted entries for the Mountain Goat Run, Boilermaker and Syracuse Half Marathon
Reward points earned with the popular Fleet Feet Rewards Program
Want to pay for your membership over time? We have a payment plan option for you!
So come run with us in 2019 as we train year round with smiles on our faces.