By Ed Griffin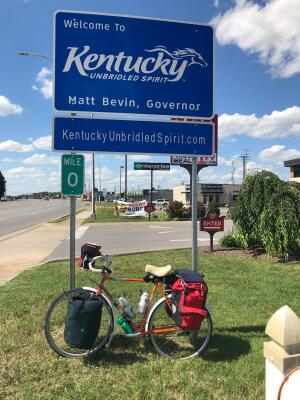 "The average person quits physical endeavors at 40 percent of their potential maximum effort. Think of it, 40 percent!"  These are the words of my friend Gary Radford, local athlete extraordinaire.
Gary is a senior athlete with multiple USA Track & Field (USATF) records to his name. Last year, Gary damaged his Achilles and had major surgery to repair it. His recovery involved lots of physical therapy, cycling, weights and a lot of cardio exercise. One day last year, I saw Gary on the Erie Canal Towpath. He had his repaired leg on a scooter device with wheels and was pushing off with his good leg at a pace that would win his age group at any race.
Gary is goal-oriented and as he dreamed about what was next, he came up with a big goal. Gary is currently in the midst of riding a bike from Key West, Florida to Prudhoe Bay in Alaska, 250 miles north of the Arctic Circle. He has entitled this 6,000-mile trip, "Pushing Your Limits." To make the trek, Gary will rely strictly on his bicycle loaded with gear, all weighing around 70 pounds, without the accompaniment of a support vehicle. He will spend 8-12 hours a day on his bike, burning 5,000-6,000 calories a day.
"My reason for doing this is two-fold. First, my wish is to help each one of us to believe in ourselves, to believe we can achieve difficult tasks with hope and courage, in short, 'Pushing Your Limits,' to pursue the Olympian in each of us," Gary said. "I hope to inspire you to push yourself a little harder. Write down your goals and go for them. While I haven't run competitively since shortly before my ankle surgery as I start to train after the bicycle trip, my goal is to be standing on the podium at a USATF National Championship race within one year. I am challenging each of you to push your limits.
The stories Gary is collecting and the people he is meeting are amazing.  You can follow Gary's adventure via his blog located on Facebook and/or follow his progress on the route via Garmin.
Gary is dodging summer storms and just this week crossed into Canada. He left Key West on June 1st and hopes to hit his goal of Prudhoe Bay by the end of August.
Gary is self-funding his trip but is raising money for the Genesee Valley Harriers who he runs with. You can learn more about donating here. 
Ed Griffin and his wife Ellen own Fleet Feet Syracuse, which they founded in May of 2000. Fleet Feet Syracuse has received National Recognition as a Top 50 Running Store in America 12 years in a row and was named Best Running Store in America in 2012. Ed enjoys helping the team at Fleet Feet and our customers achieve their fitness and professional goals. In his spare time, Ed speaks to companies and organizations on a variety of topics, walks his dogs, enjoys good music and is the family chef. He can be reached at ed@fleetfeetsyracuse.com.