By Ed Griffin
This week, the blog is a potpourri of information as we head into the teeth of fall.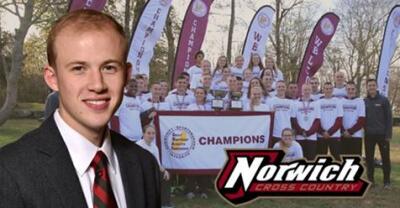 Congratulations to former Fleet Feet employee and High School Running Columnist Seth Jackson, who led his Norwich University Cadet Men's Cross Country Team to the Great Northeast Athletic Conference Championship this past weekend. Seth was also named GNAC Coach of the Year, in his first year as a head coach. Previously, Seth was a four-year distance runner at St. Lawrence University and an Assistant Coach for two years while attending graduate school at his alma mater. Seth is the son of Jenny and Brendan Jackson, who both worked at Fleet Feet.
The Syracuse Half-Marathon is coming up in less than two weeks and only a handful of spots are left. There are nearly 1,000 more people registered for this race this year than there were for last November's race, and at 4,500 participants, it is the largest road race in Syracuse. 
This Saturday, The Miles That Matter 5k Trail Race will be held at Clear Path, Salt Springs Road in Chittenango. This cross-country style trail course sits high on the ridge above the village of Chittenango on the Clear Path for Veterans property.  Enjoy beautiful views while running for a cause.  All proceeds from the run directly benefit Clear Path and its programs. Following the trail race, Music that matters will be held at Clear Path, featured will be three bands; The Old Main, House of Hamill and The Adam Ezra Group. Both Adam Ezra and House of Hamill have played at our concert series at home, so you can combine a day of running with great music, barbecue from Ray Brothers and beer from Good Natured Brewery. The Music that Matters ticket is only $15 (All proceeds to Clear Path) for those running the Miles That Matter 5k.
Congratulations to the Syracuse Orange Cross Country teams as they hit the championship meet season. For the first time in five years, the Men did not repeat as ACC Cross County Champions, finishing second to Notre Dame at Franklin Park in Boston by a mere 4 points. The Orange Women's team was a strong third, 16 points higher than first place NC State.