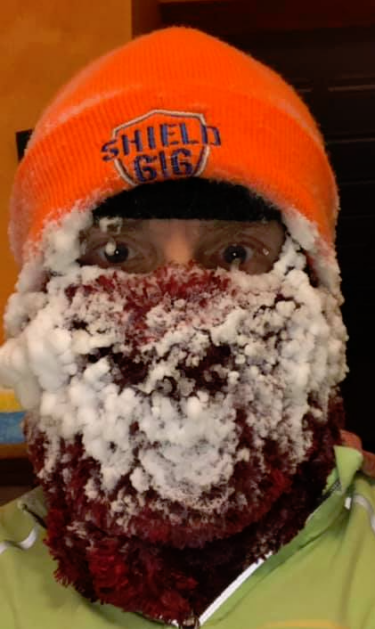 By Ed Griffin
Let's face it, some days you just don't feel like running. Maybe you don't feel like doing anything? It happens. For days like this, I have a couple of inspirational stories that might help you lace your running shoes up.
Dick Beardsley is a running legend and we have hosted him three times through the years, the last time being just last fall.  Beardsley could motivate the rain to fall on the dessert.  During the cold snap a few weeks back, no place was hit harder than Bemidji, South Dakota, where Dick lives.  Dick posted the photo on the right and this caption on his social media account:
"-40 degrees with wind chill of -61 this morning in Bemidji. Call me crazy but other than my feet getting a bit chilly it wasn't all that bad!" 
If you have ever met Dick, this surely does not surprise you.
A woman in Thailand, running a marathon, saw runners dodging an object in the road at the 7-mile mark of the 26.2-mile race. As she ran close, she saw it was a young puppy. She saw no one in sight that might own the puppy, so she picked it up and ran the remaining 19.2 miles, crossing the finish line with the puppy in her arms.
The story didn't end there.  The runner appealed for the owner of the puppy to come forward and no one did so instead of giving it up, she adopted the pup on her own!
Ed Griffin and his wife Ellen own Fleet Feet Syracuse, which they founded in May of 2000. Fleet Feet Syracuse has received National Recognition as a Top 50 Running Store in America 12 years in a row and was named Best Running Store in America in 2012. Ed enjoys helping the team at Fleet Feet and our customers achieve their fitness and professional goals. In his spare time, Ed speaks to companies and organizations on a variety of topics, walks his dogs, enjoys good music and is the family chef. He can be reached at ed@fleetfeetsyracuse.com.