By Ed Griffin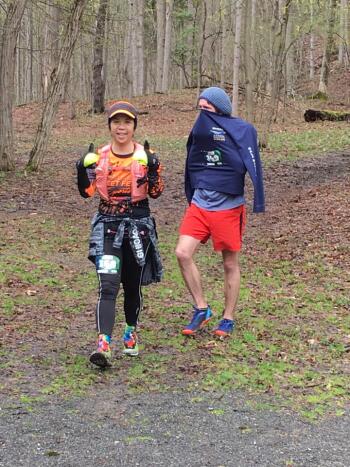 Being an athlete, professional or amateur, can be a very selfish thing.  Always making sure you get in the training, what you eat, how you feel, how to compete against everyone else, and prioritizing everything around your goals.  A lot can fall by the way side.  If you are competing at the highest levels, it can be very difficult to be successful unless you do focus on yourself.
Despite this, stories of athletes helping other athletes abound and a great example is Fleet Feet Distance Coach Margie Chen Rivers who as an athlete and coach may be the best person you will ever meet.
Two weeks ago, Margie traveled to the Boston Marathon to support her coach, Michele Maciejewski, who was running in the Boston Marathon.  It was another warm day in Boston and Michele had big goals.  Michele was having a good day but just when she was starting to feel the heat and needed a boost, there was Margie on the side of the road to provide the encouragement she needed to get to the finish in 3 hours, 4 minutes, and 25 seconds, which is just over a 7-minute per mile effort.
Move forward two weeks, Margie is running her first trail race, a 10-mile distance on a wet and cold day at Green Lakes State Park.  Eight miles into her race, she comes across a fellow runner who is competing on the same course in a 20-mile distance.  The runner was cold, sore and hurting.  Margie checked in with the runner and sensing his predicament, put her own race and finish second and decided to help a runner in need.  Margie walked, ran, and talked with the runner to get him to the finish, putting her own race second.
To those who Margie coaches in the Fleet Feet Distance Program, these two examples are no surprise at all.  Margie gives of herself and we are all better for it.
Ed Griffin and his wife Ellen own Fleet Feet Syracuse, which they founded in May of 2000. Fleet Feet Syracuse has received National Recognition as a Top 50 Running Store in America 12 years in a row and was named Best Running Store in America in 2012. Ed enjoys helping the team at Fleet Feet and our customers achieve their fitness and professional goals. In his spare time, Ed speaks to companies and organizations on a variety of topics, walks his dogs, enjoys good music and is the family chef. He can be reached at ed@fleetfeetsyracuse.com.