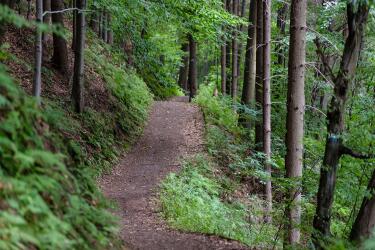 We're hitting the trails this June, and you're invited to come with us!
Starting this Thursday, June 6 and on each Thursday in the month of June, we'll be hosting a FREE four-week trail running series that will take us on an adventure through some great trail systems here in Central New York.  Our first stop is Clark Reservation; each week we'll be touring a new location in Onondaga County.
All runs will be approximately three miles long and will be led by an experienced coach.  Some runs will feature demo shoes from some of our vendors, so you'll be able to get a real-world test of shoes without any commitment to purchase!
Trail running is a wonderful way to explore the great outdoors.  Since the terrain is ever-changing, it requires you to stay in the present moment, which most people find extremely diverting and stress-relieving.  From a physical standpoint, trail running is great for the body. The varied terrain forces your body to engage more muscles that it needs to when you are running on hard surfaces like asphalt or concrete.  This results in an increase in overall strength. Additionally, the softer surface of the trails can feel better on the joints and the body overall since the body doesn't need to absorb as much force as it does when running on harder surfaces.
So whether you're an experienced trail runner or completely new to the idea, please come join us as we blaze a trail through June!  
Laura Henry has been employed at Fleet Feet Syracuse since 2016 and has been an endurance sports coach for more than six years.  As the Head Coach of Fleet Feet X-Training Program (FFXT), she enjoys helping people build strength so they can reach whatever athletic goals they set for themselves.  Outside of work, Laura enjoys traveling, photography, reading, and cooking. She can be reached at lhenry@fleetfeetsyracuse.com.