Journey of an Ironman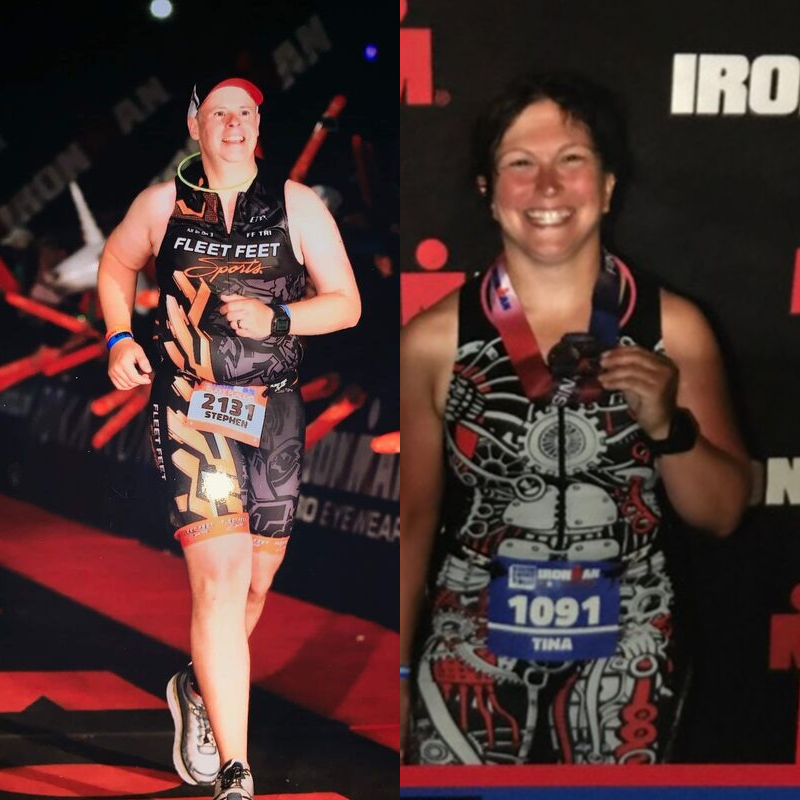 By Tina & Steve Poppe
As a couple, my husband and I both have first-hand experiences when it comes to training and competing in an Ironman. Though it is the same race, we both had two different experiences with our obstacles and challenges.
Tina
My journey started back in 2007, when I participated in the Fleet Feet Hot and Cold Runs. The taste of the challenge brought me to the realization that I wanted more from myself and from the sport. I needed consistency with my training and a goal that would challenge me every time I stepped onto the pavement. By 2008, I completed my first Marathon! I found that training needs to be self-motivating and can only be accomplished if we hold ourselves to our goals. Fleet Feet helped me reach those goals as I was able to utilize their coordinated runs to help with my training and stay on track. Not only did it help me achieve my goal, but I also gained lifetime friendships. From there I continued on by completing a half marathon in 2009. But slowly completing each of those runs did not satisfy the drive I had for something more. 
Along this path, I met Brendan Jackson, who introduced me to the sport of triathlon. By 2010, I completed a Sprint Triathlon, the Irongirl, and from there I was hooked! I went on to compete in two more Irongirl races and by the end of 2012 I completed the Olympic distance. At this point, I thought to myself, "what's a little bit further?", so I completed the Half Ironman Syracuse 70.3 in 2013. Even after pushing myself to the limits in each of those races, I still wanted even more. I wanted that title that any of the insane triathletes want to embark on, the Ironman.  
The road to Lake Placid has its own struggles, obstacles, and self-doubt. Not only does the training test your physical limits, but also your mental toughness. For a whole year I slept, ate, and breathed Ironman training. In July 2015, there I was standing at the starting of my first Ironman race in Lake Placid. The emotions of standing at the starting line were scary, exciting, and everything in between. So I told myself, "today is the day I become an Ironman!" And so I did. 
That race was one of the hardest things I have endured. Lucky for me I had my biggest cheerleader, companion, and motivator in my corner. I could not have completed the training and the race without Steve's love and support. I can proudly say that today I am an Ironman because of Fleet Feet Syracuse and the amazing programs they offer.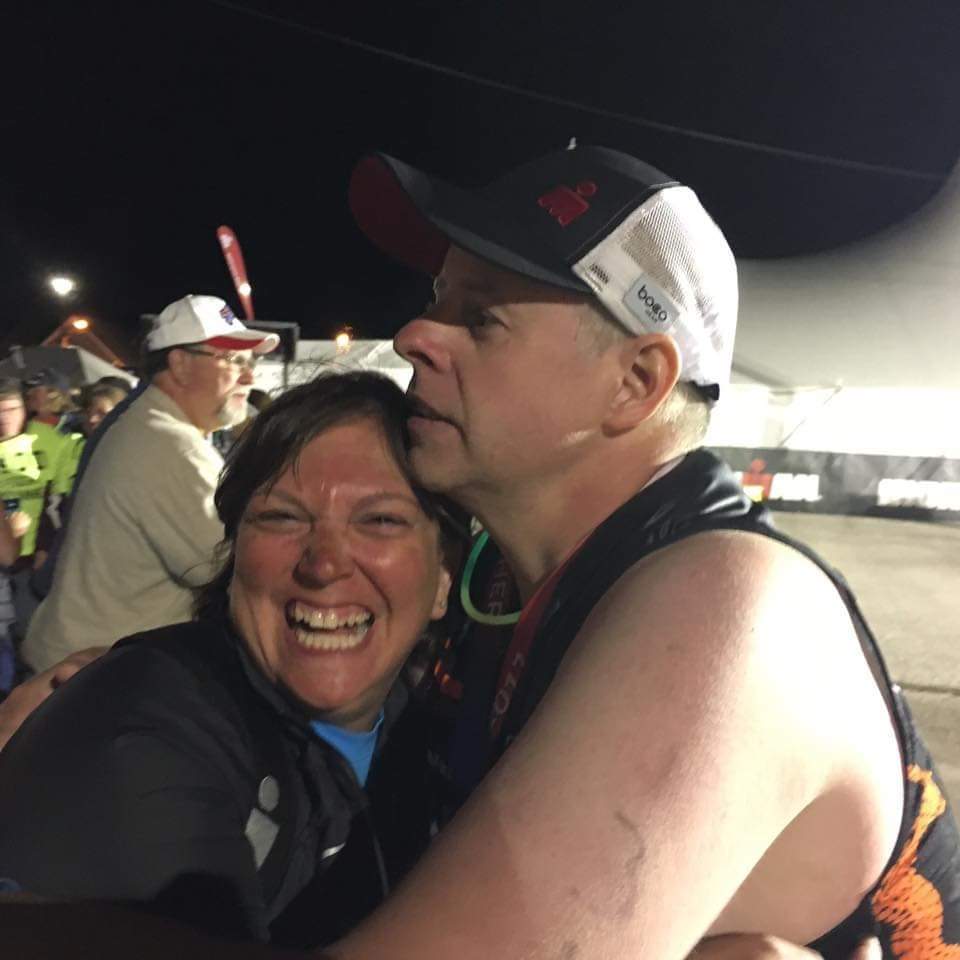 Being a triathlete and part of Fleet Feet's programs has taught me lifelong lessons and has shown me the strengths that I never knew I had. Not only have I grown as an individual, but I have also made friends and memories to last a lifetime.
Steve
I am not an athlete. I never was. When I was younger, I was really thin and I got made fun of all through elementary school. Then genetics kicked in and I gained weight and well you guessed it, I was made fun of for that too. I tried getting into sports, but it just wasn't for me. I played baseball and soccer and I wasn't particularly good at either one. I gravitated towards things like fishing, camping, riding four wheelers, and racing model radio-controlled cars. I didn't like running. I only used my bike for transportation to friend's houses or the occasional run down steep hills in the woods. My only swimming experience was either in the backyard pool or off the back of the boat during particularly hot fishing days. 
Fast forward quite a bit to Fleet Feet Triathlon. My wife Tina had enrolled in some of the running programs Fleet Feet offered, and one day came home and proclaimed she wanted to try Triathlon. Not only that, but she was going to help coach triathlon. She was off running, swimming, or biking all the time. I was not unsupportive, but I also thought she was away from home a lot. Well, to make a long story short, I was recruited to help out a few times here and there, and to be her "Sherpa" for some of her races. I started going to some practices and some of the events she was participating in, and I became amazed at what I saw. I saw a lot of people who didn't "look" like athletes swimming, biking, and running; who were doing amazing things and looked like they were having a great time and enjoying each other's company. Well, you know what they say, "if you can't beat them, join them."
I started working out a little and it was very difficult. I am a painfully slow runner and biker. I really enjoyed swimming. It was technical and hard, and it was easier for me to see the little improvements I was making. It's still my favorite even though the Ironman swim still terrifies me. But more on that later.
We started taking vacations up to Lake Placid to watch the Ironman events with coach Brendan. If you have never witnessed an Ironman in person, you need to make it a point to go. It is truly inspirational. I can remember the moment I knew that Tina was going to compete. Brendan had this look he would give you. Like he knew you were going to do something before you even knew yourself. He gave her this look during the race while talking about doing an Ironman. When we got home from Lake Placid I convinced her to sign up. In 2015 Tina completed Ironman Lake Placid. It was amazing and magical to watch her finish. She was on cloud nine. Maybe it was selfish, but after watching all those people, including my wife, cross that finish line, I wanted that feeling too.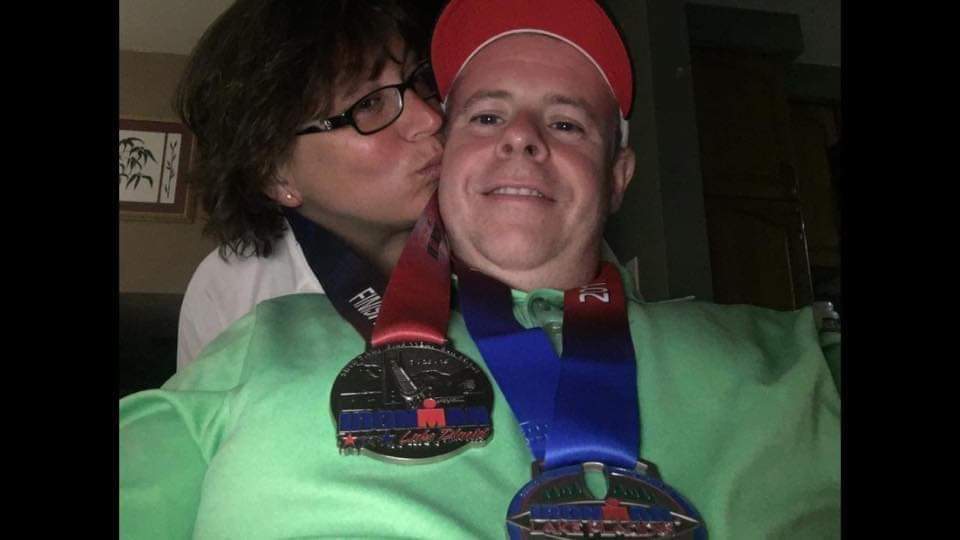 In 2016 I went with Tina to watch the Irongirl triathlon. I had an agenda. I was going to ask Brendan to coach me for Ironman in 2017. It was crazy. It was unconventional. Here I was at Irongirl, a sprint distance triathlon that I myself probably couldn't have finished if they had let me in the water, and I was going to ask Brendan to coach me through a full distance Ironman. I don't ever pick the easy road. I tried to ask him multiple times. I was so scared. Was he going to laugh at me? I was watching all these people doing these amazing things and I wanted that for myself. I finally mustered the courage and asked him and he said yes. And then I got the look.
Training was one of the hardest things I have ever done. The first swim workout I was gassed after a couple hundred yards. My bike sessions were horrible. I was having trouble completing the distances. I was struggling with nutrition and my running wasn't going well either. To make matters worse, we had lost Brendan in the middle of all this. I was mentally struggling, and not at all feeling like an athlete. 
Race day arrived and I was ready to attempt my first Ironman Lake placid. I had only ever done one sprint triathlon before that day. Was I crazy? Probably. Was I scared? I was terrified. I had gone through the training, but I really wasn't prepared for the mental toughness I was going to need to exhibit. The first hundred yards of the swim I was convinced I made a terrible mistake. People were punching and kicking and swimming over me. The bike leg was equivalent to an entire eight-hour work day. It was really hard not to talk yourself into quitting out on the run in the dark alone. After almost seventeen hours I crossed the finish line and it was magical. If you have ever seen my finish line pics you would be able to see how elated I was. I don't think I have ever smiled like that before.
So, what should you take away from my story? You don't have to be an athlete. Athletes get up early. Athletes only eat healthy foods. Athletes never miss a workout. Athletes get enough sleep. Athletes don't drink alcohol. I am not an athlete. You just need to be brave enough to take that first step. You will meet amazing people that will change your life. You will do things you never thought you could. Trust your training. Realize that mental strength is just as important as physical strength, and that both can be fragile at times. If I can be a triathlete, anyone can. Anything is possible.