By Patricia Kawryga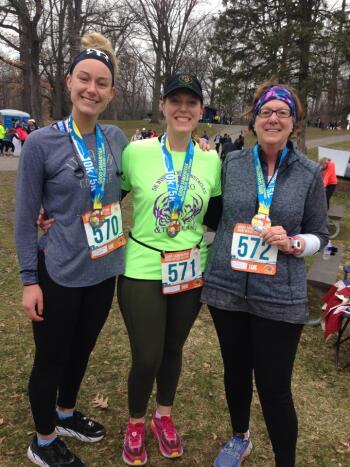 "The miracle isn't that I finished, the miracle is that I had the courage to start."
That was exactly how I felt when my daughter, Erin, and I and I started the No Boundaries (NoBo) "Learn to Run" program in March 2013. Neither of us was very athletic, but we decided we would try something new together as part of a quest to lose weight and get healthier. We had to start from the very bottom, neither of us could run for more than a minute at a time. We had no idea how we would manage to run for 30 plus minutes and finish a 5K. But, the more we got into the training, the more we started to believe we could achieve that goal. We both successfully completed our first 5K, Runapolooza, at OCC in June 2013 and we were hooked! I liked NoBo so much, I continued to sign up for it about 12 more times! We both met a lot of great people through training with Fleet Feet, running with a group is always way more fun than running alone! Erin continued to train for longer distances and eventually, I did too. My younger daughter, Danielle, had always been athletic and she was able to start running with no problem. She was away at college when we first started running, but joined us at races when she could. Now that she has graduated, she is able to train with us more…though she is a lot faster than Erin and me!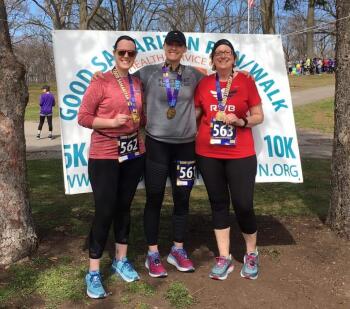 Even though we all run at different paces, running has helped us stay connected to each other.
We love to do races together. Erin is usually the first one to suggest a race and then Danielle and I jump on the bandwagon. We always ask, "Is there a medal?!" Destination races are our favorite and we love making new memories together. I remember when Erin ran her first marathon (The Flying Pig in Cincinnati) in May 2017. I was just as nervous as her! Since I was there to be her cheerleader, I ran the half marathon and waited patiently for her to finish. There were a lot of Fleet Feet runners in Cincinnati and I stood near the finish cheering for them and waiting on Erin. As I saw Erin heading toward the finish line, Coach Della, Erin's marathon training coach, hopped the barrier and ran to the finish line with her. There were lots of hugs and tears that day, a memory that we will never forget! Just last year, Danielle trained for the 18.12 Challenge. Erin and I were not doing the race and didn't go with her…or so she thought. The morning of the race, Erin and I drove up to surprise her and cheer for the other Fleet feet runners. As the runners came in, everyone kept saying it was a tough race. We both got worried about Danielle; it was hot, and she really wanted to do well. Finally, after a few anxious hours, we saw Danielle coming and started yelling her name and cheering loudly. When she saw us, I saw her wipe her eyes! Tears of joy!!! What a surprise! After the run and many sweaty hugs, I said to her, "Do you think we wouldn't be here? We wouldn't miss it!" To me, supporting each other is what it is all about and why we love the running community here so much.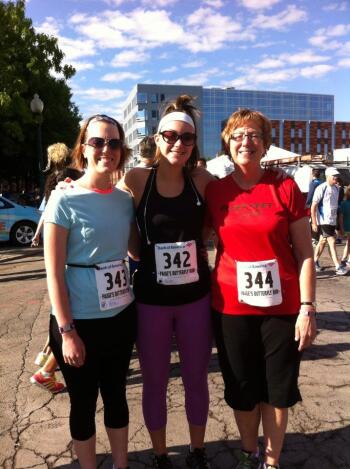 As a Mom, being able to spend time with your kids is awesome! I also hope I can set a good example for them. It's never too late to try something new and step out of your comfort zone. We hope to be running together for years to come!
I often hear someone say, "I'm not a real runner." We are all runners, some run faster than others. I never met a fake runner!