By Sheena & George Gates
Sheena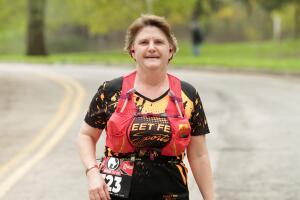 My pre-running journey started June 2012 when George and I decided to take charge of our health and seek the help of a nutritionist. Before this I had gained so much weight that my body was starting to shut down. I had killed off my gall bladder and developed plantar fasciitis in my left foot. I had to get injections in my foot so that I could dance at my son's wedding. We'll not even discuss how difficult it was for me to even find a nice dress to wear to my son's wedding. We had reached our ''fed up" point and sought professional help. 
We didn't realize taking that first step would change our lives forever. I discovered that I had an intolerance to gluten. Changing what we ate, how much we ate, and when we ate it was transformational. The first year we ate according to the program we were given by the nutritionist and walked the dog. I lost 33 pounds and George lost 73. Between us, we lost a whole person! What was most important is that we felt so much better and a lot more energy. 
After that we got into some BeachBody workouts and really kicked it up a notch. So much so, that George submitted and won $1,000 prize from BB from one of their monthly competitions. We set up a little workout area in our basement and took turns or sometimes sharing the same workout. It truly was a joint effort. 
In 2014, I had watched George attempting the Couch to 5K program and decided to give it a try myself. I did go to Fleet Feet for proper running sneakers, but nothing else. Without the proper gear, running form and coaching, I soon gave up because it hurt too much. I decided to focus on all the newly released BeachBody workouts as they came out. It was a lot of work, but worth it. I was doing really well, toning up, losing weight, but then I broke my ankle hiking. 
The year of 2016 was the worst. Mrs. Menopause found me and parked a 10-pound spare tire around my middle. By now, I have gained back almost 20 pounds that I had lost by eating properly. I had to buy bigger clothes as mine got tighter and tighter. I became extremely frustrated that my body was doing this to me. Of course, mentally, it's just downright depressing. After having a short pity party, I started to take control again. I started to research this annoying thing called menopause and how I could combat it. The only repeating theme, that I found, was to exercise for 30 minutes every day. Ugh! 
By 2017, I had hit another "fed up" moment and decided to give running a try again, but under the guidance of Fleet Feet's No Boundaries Program (NoBo). George was enjoying and praising all the Fleet Training he had experienced so far, so I decided to give it a try. Those first couple of weeks were terrifying. I kept thinking to myself, there is no way that I can run for 3 miles without stopping. After the first couple weeks, I found my breathing rhythm. That was one of my biggest anxiety huddles. Once that settled in, I just absorbed everything my coaches told me to help me improve. I was EXTREMELY fortunate to have one of the best NoBo coaches ever, Tammy Gower. She kept kept telling me that I could do it and always encouraged me. Our other coach had dropped out due to an injury, so I asked George if he would help Tammy finish the season as our group progressed and became more spread out. June of 2017, I ran my first official 5K without stopping and clocked a great time!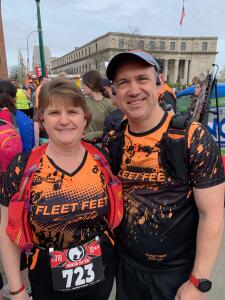 By now the husband was a member of the Fleet Feet Racing Team sporting the "orange and black." What a presence the team made at all the races here and out of town! I was really enjoying being part of the Fleet Feet family and was either cheering or running at all the same races that he was, so I decided to join the racing team myself. 
I now had the tools and was ready to tackle it on my own. Then summer hit. I do not handle the heat well and felt like a failure because I couldn't finish a running workout that I had done before. I became very frustrated. I, unlike my husband, like to put my frustrations out on the NoBo group page. The responses I received told me that I was not alone and not to beat myself up about it. If it wasn't for the caring members and coaches letting me know that I was not alone in this suffering, I may have given up. I then signed up for fall NoBo and did my first Baldwinsville Turkey Trot. To keep my momentum and my butt off the couch, I went onto my first winter NoBo session. By now, you could say I was bitten by the Fleet Feet NoBo bug. Winter session brought me more new coaches, more new friends, slip resistant sneakers and lots of layers. I'm a northern girl and love running in the cold. That training led to the Lake Effect 5K. I wasn't expecting to set a personal record (PR) there, but I did! THE TRAINING WORKS! A week after that race, a bunch of us Fleet Feet Racing Team folks flew down to New Orleans to run all the various Rock-n-Roll races. If I hadn't stopped and walked through the water stop, I would have had my second PR in less than a week. The best part was sharing it with all my Fleet Feet family. We had the best time and share lots of great memories. 
Since I was riding high on my most recent PR, I signed up for the 2018 spring session of NoBo2 to kick it up a notch. Loved Coach Holly Skiff! She always had a smile and great running tips. I was challenged by an old friend of mine to do a 5K in 40 minutes or less. I told him that I would do it in 2018. I missed it by 30 seconds at Paige's Butterfly Run and was so bummed. I still did extremely well and kept chased that 40-minute mark all year during different races. Now that a 5K didn't seem so scary, I decided to set other goals for longer distances. Again, scared, I signed up for the Distance Program. Before I could start the program though, my back started giving me trouble. I then decided to pull out of the Distance Program and signed up the fall NoBo 10K program instead as to not risk further injury. That was a good challenge for me. Again, another great Coach with Tish. The goal race for that training was the Baldwinsville Turkey Trot 10K, but I had signed up to do my first 10K in December and ran the 5k instead. I was shocked when I got up the hill after the first mile and checked my watch. All my hill work during fall training was working. The hubby was running it with me and I turned to him and said "I think I can PR this if I keep up this pace". He said, "Let's go!". Even with stopping for a Della selfie, I PR'd that 5K by 3 minutes and achieved my goal of running a 5K in less than 40 minutes.  
In December 2018, a bunch of us flew to San Antonio for another Rock-n-Roll race event. I ran my first 10K there and the conditions/course couldn't have been more perfect! A bunch of the Fleet Feet Racing Team ran the half marathon and a couple of them ran the full marathon. It was a wonderful trip and a great way to end the season.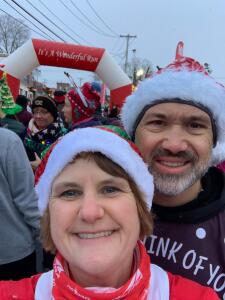 This past winter I did my own training by getting out at least once a week for some miles, just to maintain a base. As spring rolled around, I decided to sign up for the Distance Program. Again, it was all new and a bit scary, but luckily I was in good hands with Coach Erin and Coach Harold. I just got out there and did my best. Starting out with Mountain Goat training for Distance Program training was a lot of work, but I did it! I still can't believe I ran 10 miles. The hubby was a sport and stayed with me the entire race. I know that running that slow with me was hurting him and he knows how much I appreciate his support. I figured if I can conquer the Mountain Goat then the Boilermaker shouldn't be too bad. My only major concern was the weather. I DO NOT LIKE TO RUN IN THE HEAT. The gods smiled down on us that day and the weather was fine. I also ran with some of my teammates to the finish, which was a big boost to me at the end. *Note to self: Carry salt tabs in warmer weather.* At the end of that race, my calves started to cramp and my fingers turned to sausages. Lesson learned. 
My next goal is to run the Wineglass Half Marathon this fall. I love that race (having done cheer squad the past couple of years)! That area of New York is just beautiful in the fall. I have a goal in mind, so I will concentrate on that during the fall training. What I'm most looking forward to is my Fleet Feet family waiting for me at the last bridge at the end of the race. They are the best and I wouldn't be where I am today without them! 
Things I've learned along my running journey:
With the proper training, you can accomplish your goals.
If you believe you can do it, you can achieve it.
With friends to run with, long runs are much easier.
Fleet Feet has the best training programs, coaches and cheer squad.
Quiet that voice in your head that says you can't do it or the distance is too long.
Running in the heat sucks! Carry salt tabs when you do. Run before the sun comes up if you can.
Traveling and racing with friends is the best!
Set a goal, do the training and you will succeed.
Don't run every race to get a PR and you'll have way more fun.
Talking about food, on long runs, is how I roll.
Take fun photos on your runs/races to capture moments you don't want forgot.
Chafing is not an option nor wanted.
When running uphill, keep your head up and your elbows back. When running downhill, keep your hand low and your knees high.
Use the FF running group pages to ask questions or post your frustrations. You will get a ton of good advice from other runners/coaches.
Dynamic warm up and cool down stretching are musts.
I won't be pushed, but I can be pulled (see Coach Grant's video). ;o)
Running is easier when prepared with the proper gear, nutrition and hydration.
Get and use a good quality running watch to track your progress, help you with interval runs, monitor your heart rate, etc. Worth the investment.
Listen to your body, when nursing an injury or if you are struggling.
Sharing this journey with my husband brings us closer together.
Being part of the Fleet Feet Racing Team is awesome and gets you noticed by other racers and photographers. Our orange and black stands out in a crowd!
I wouldn't be where I am today without Fleet Feet Syracuse!
George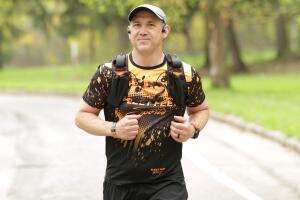 It's fitting that this is a couple's spotlight, because our journey is so intertwined. I don't think it would have been possible without us supporting each other.
Flash back to 2012. I'm in my early 40s, on three blood pressure medicines, and weigh over 260 pounds. My life consists primarily of working, then coming home and sitting on the couch. I have no energy for anything else other than ignoring Sheena when she wants me to do something. At this point, running is not something I would ever consider. I've never been athletic outside of playing volleyball, and that is a short burst of speed game. Sheena has also steadily gained weight, and with it has had an increase of health issues. We reached a tipping point, and Sheena saw a groupon for a nutritionist in Oswego.   We decided we had to do something to take control of our lives. We were too young in our minds for all of these issues, and had so much more we wanted to do in life. We need to live a long and healthy life for this to happen.
We went to the nutritionist in June of 2012, and nothing has been the same since. The first thing we did was overhaul our eating habits. Even the times we thought we were eating healthy it wasn't balanced properly. That first year was nothing but eating better and getting my butt moving by walking the dog a lot. Those two simple things and the weight started to drop off. 
With the drop in weight came an increase in energy.  Suddenly I had things done before Sheena even thought to ask me. Walking wasn't enough so I started doing BeachBody workouts. The weight continued to drop, and my fitness level increased. During that year my walks had little bursts of running, just because I could barely contain the energy and how great I felt. My health blossomed, to the point where I no longer needed any medication.
In 2014 I started running. One of Sheena's coworkers was doing the Hallowrun for Hunger 5K, and I decided I would do it too. I started training with the Couch to 5k, but it bored me. It was moving too slow, so I started just running. I couldn't believe the first time I ran a mile straight. I also couldn't believe how hard running actually was. I didn't do easy runs or speed work. I just went out and ran and wow, what a workout it was. I didn't really find it fun, but that was ok, it was a hard workout and I wanted that. I was stuck at two miles forever though, mostly due to improper training and mental barriers. One day I just decided if I was going to be able to do the 5K I had to go further so I just kept running and made it to three miles! I went on to run that 5K and was really happy about it. (Other than seeing my pace on the first mile and realizing I got caught up in the excitement and went out way too fast!) It took me years to stop doing this.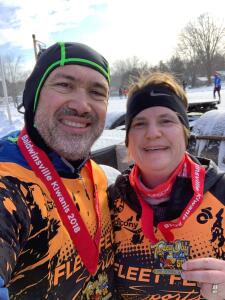 2015 was basically the same. I ran more 5Ks, I improved slightly in pace. I just ran. My runs started to creep a bit longer and one morning I felt great so I kept going and ran six miles! I was actually starting to enjoy this. I figured if I can do six miles I want to go further. I signed up to do the Empire State Half Marathon in October 2016. This is how I hold myself accountable. If I sign up for the race, I am going to train for it.  Once I get interested in something, I like to research it. I borrowed and read many books from the library about running. I started listening to all the running podcasts I could find. I trained on my own for most of it, using heart rate based training. I discovered the importance of running slower to get faster. I came up with a goal of finishing within 2 hours and 30 minutes. 
I had some rough moments. Many times I started to doubt I could do it, especially after having a bad run. I also discovered how hard it was to do speed work on my own. I decided to get out of my comfort zone and signed up for the Fleet Feet Personal Best Program. I am an introvert by heart, and the thought of doing this scared me to death. I didn't know anyone else there. The payoff was worth it though. I didn't miraculously become super-fast, but I did become confident. I realized I was like so many of the other runners here, we all had the same struggles and triumphs. 
Matt Teixeira's journey started to parallel mine at this point and he was interested in the Indy Mini 1/2 Marathon. I told him if he signed up I would do it with him, so suddenly I was signed up for my second half marathon before I did my first! I went on to do my first half marathon in 2:07, and was ecstatic with that time! But I looked back when I crossed the finish line and decided I could never do a full marathon. There was no way I could imagine going back and running another 13.1 miles! Like most of us, within three days, I signed up for my first full marathon in 2017. Strangely this was before I even knew the "kool-aid" existed, there is something wrong with all of us. 
In 2017 I signed up for the Fleet Feet Distance Program and never looked back. I had two goals, do well at the Indy Mini and survive the Wineglass Marathon. I met three people who were vital to this: Coaches Cherise, MJ, and Mandy. They really pulled something out of me I didn't know I had. They made me realize I could push harder, run faster, and be confident that I was ready. I also became a GreenSmile that year, and am one for life. We had one of those magical training groups, we all ran a very similar pace. We were a tight group, and I've never had so much fun suffering in my life! They ruined me for running long runs alone, I grew to love the group runs and somehow running became as much social as it was work. My wife had started running in No Boundaries, and one of the coaches had to step down so I got the opportunity the step and coach with Tammy. I'd been running long enough now that I started to take the distance for granted. It was so refreshing to see people excited about running five minutes straight and meeting one milestone after another. Watching them light up, and gain confidence. Coaching No Boundaries was exactly what I needed. 
2017 was my year. With everyone's help I made three major PRs. I got my sub 2-hour half marathon at the Indy Mini (1:59:58 phew). I got my 5K PR running a 7:59 avg pace (24:48). I ran a successful first marathon at 4:26:09. They say crossing the finish line of the marathon will change you. For me, it wasn't crossing the line. For me it was the training and the people who helped me get there.  I felt so strong once I got to the bridge and it seemed like all of Fleet Feet was there cheering. It is indescribable how much energy that gives you.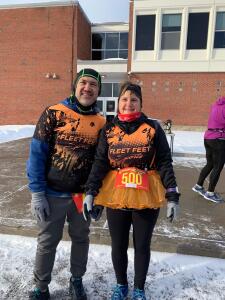 I was flying high after that year. In 2018, I started coaching the Distance Program. I want to help people find the success I had. I find it so rewarding to give back to the system that helped me so much. I also signed up for a 12-hour endurance race. Many people blame Sue Little for that kool-aid, but I was actually the first one to sign up! Not by much though, she was right behind me.  Who would think you would run a marathon and longer doing circles in your neighborhood with no one watching? I ran (and walked) 51.66 miles that day, and even though we ran different races Sue and I finished with the same distance at the same time. I cannot imagine a more fitting way to finish being the ring leaders of the Quazy Quackers! That was the most emotional race I have ever run, that one changed me for sure. 
I have decided to take a break from my own goals in 2019. Honestly, I was a bit tired after last year! This year is for the coaching and helping others. I get to watch Sheena meet her own milestones and can't wait to see her finish her first half marathon! I'm in another great group and love helping others meet their goals. If I had to describe my feelings about running this year it would be contentment. 
Long story short, running has brought me a lot. I have stayed fairly healthy, I have made so many friends, and along the way I have discovered a lot about myself. What's next? Will I get more goals? I'm not ruling out a 100k or 100 miles someday…