By Sandy Smith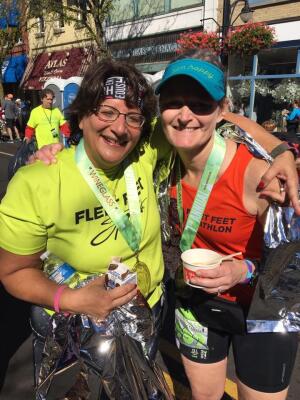 I started my running journey at the age of 50.  I never really referred to myself as an athlete, although I did a lot of swimming in my younger years enjoying swim team and synchronized swimming at my local Y.  My girlfriend and I had heard about the No Boundaries (NoBo) program at Fleet Feet Syracuse.  I had recently been to the store for some sneakers, and my friend had a friend who was coaching.  So we decided to join together and in 2011 we found ourselves at our first NoBo training.  I remember how scared I was!  And it was hard! I could barely run the 30 seconds!  I always looked forward to the walk breaks!  As the weeks went on I realized that maybe, just maybe I could do this.  All the coaches and my group were so supportive. My first race was Runapalooza at OCC.  Two loops around that is all I had to do!  OMG, I thought I was going to die!  However, all along the route were our coaches and at the finish line were my people!  I was sooooo proud of myself and what I had accomplished!  I went on to participate in the Personal Best program with Brendan Jackson.  I learned so much about running and different strategies to help me get through homework runs and races!  But more importantly, I made so many wonderful friends there. 
In 2012, having been a recent Breast Cancer survivor, I volunteered for the Gillie Girl Triathlon in the swim area.  I was hooked!  I could already swim, and I had recently completed my first 5K, all I had to do was get back on my bike!  I had heard a lot about Fleet Feet's Triathlon training program and had a few running friends that were in it.  So, I gave it a whirl.  I joined the 2012 winter session and the 2013 spring/summer session.  My first triathlon was going to be Iron Girl.  And I was also signed up for a relay at Gillie Girl.  I had spent 8 months training, got all the garb you need for the sport, including a wet suit.  Although I had doubts that I could pull it all together, I was trained and ready to go.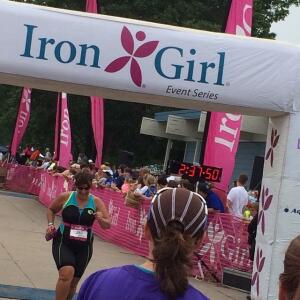 Two weeks before the race during a training session, while running I missed a curb and went down on my ankles.  As athletes, we often run through pain right?  So that is what I thought I would do.  Unfortunately, I could not even stand.  I could not believe that after all of this training, this was happening to me two weeks before my big race.  But it was and it did.  I broke both ankles and a bone in one of my feet.  I let myself spend a day crying and feeling sorry for myself.  Yes, the disappointment was HUGE.  But I wasn't dying and I would get better!  Brendan said to me, "You will get better and come back stronger". And that is EXACTLY what I did.  After healing and PT, I slowly started my training in early 2014 and again participated in the Fleet Feet Triathlon program.  In 2014 I crossed the finish line at Iron Girl with a smile on my face!  I had done it!  But I had not done it alone!  I did it with my running friends, tri tribe, and Tri Sisters cheering me on every step of the way.   I can still feel, hear and see my peeps all along the route as I entered the park toward the finish line.  I get emotional thinking about it.  A big hug from Brendan; cheers from all the volunteer coaches and fellow athletes; and family, all of whom had been on this journey with me the past two years!  It was one of the biggest accomplishments of my life!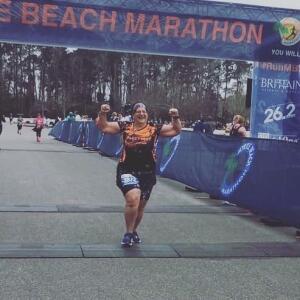 Fleet Feet has been such an awesome experience for me.  I continued to "drink the Kool-Aid" (as we say) and decided to sign up for a half marathon.   Me, the one who ALWAYS said, "Not me!"  I knew I could (this is based on the confidence I had gained from completing my first 5K and first tri) but I did not want to!  But I did!  I joined the training program at Fleet Feet Syracuse and trained for the Wineglass Half Marathon.  In 2017 I ran my first (yes, I did say first) half marathon.  And I had a blast!  For me, it is always about the journey.  It is never about the race or the PR.  It is ALWAYS about the journey.  The people you meet along the way, the scenery you get to see on those early morning long runs, the volunteers on race day.  There is so much to be grateful for.  You will always see me stopping during races to take pictures. With running friends, volunteers handing out water or cookies, policemen, firefighters, and a crazy spectator or two along the way.   I take it all in.  How lucky are we that we get to do this!  And the friends I have made along the way!  EVERYONE is so encouraging.  I am always in the back of the pack, and even the fastest runners, as they pass me, are cheering me on!  At every finish line, no matter how long they have to wait, my peeps are there waiting for me!  I have gone on to do the Marine Corps Marathon 10K (which was the BEST experience ever!), Syracuse Half Marathon, and the Myrtle Beach Half Marathon.  I am currently training for my first Olympic Distance Triathlon at Delta Lake Triathlon.  I am grateful for finding this group!  It has kept me active, and sometimes sane, for the past nine years.  I have made lifelong friends, and love being around people who empower each other.  Many people ask me why I do this.  The answer is simple.  I do it BECAUSE I CAN!!!