By Maureen Basil & Grant Fletcher
Maureen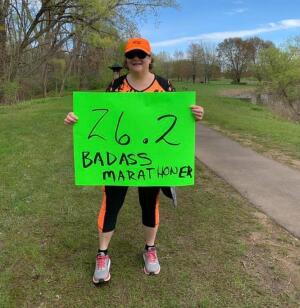 In March of 2015 I joined my first Fleet Feet Syracuse No Boundaries session, having only ever run in gym class because I was made to.  Needless to say I was nervous, thinking things like, "How would I look running," "What would people think," "I don't want to run in public".  My lifelong struggle with my weight since being diagnosed as a teen with a condition called Polycystic Ovarian Syndrome (PCOS), a condition that causes insulin resistance as well as hormonal imbalances, has caused my lack of confidence with new tasks, especially physical tasks.  The unfortunate side effects can also include anxiety and depression.  Thankfully, I have been spared the depression aspect, but the thought of running, especially in a group, was fairly anxiety-provoking for me.  Being self-conscious was an understatement.  Because of my weight issues, I was never much into sports, and certainly not running!
I showed up that first day, ran my first interval of one-minute running, one-minute walking and thought, "Ouch that hurt!"  I was discouraged at first, but I did my homework runs that week and showed up the next week ready to kill my two-minute run!  Haha.  I laugh because now, in 2019, I've certainly surpassed run one minute and walk one minute.  In 2018, as a member of the Fleet Feet Syracuse Distance Program, I had a hefty goal of running one race a month.  In the end, I ran 15 races, including my first two half marathons last fall!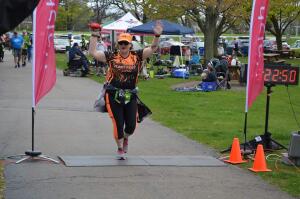 I should jump back to how this all started.  In 2014, my better half, Coach Grant, started his journey to his first marathon.  He woke up one morning and said, "I'm going to run a marathon" and he did!  He found the Distance Program at Fleet Feet Syracuse and the rest is history.  I thought, if he can train and run a marathon (mind you, he didn't start like most of us doing a few 5Ks; he jumped right to 26.2 miles), I can do a 5K.  So, I joined the Distance Program in 2015 and I have not ever looked back.   This program has given me so much more than I could have ever imagined.  I have met so many amazing people and have formed lifelong friendships.  Many of the coaches I have had during training are the reason I have come this far.  Whenever I wanted to give up, there was always someone there to say, "NO, you can do this!"  I want to say thank you to everyone for the support and encouragement, including my number one fan, Coach Grant!
Grant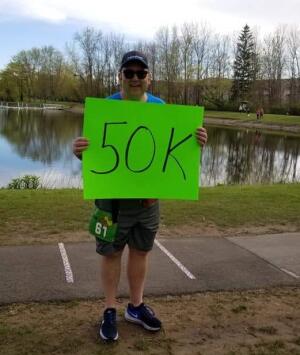 I am the most foolish runner/coach you will ever meet.  As someone who does what he says, I thought I was safe saying for years, "If I were to do a marathon, it would be the Marine Corps Marathon."  After all, I WASN'T A RUNNER.  At least not then.
Then, in the spring of 2014 while working for the Alzheimer's Association researching charity bibs for another event, I saw the Northern Virginia/National Capital chapter had charity bibs for Marine Corps Marathon.  Well, it was time to put up or shut up.  I knew I could raise the required $1,000.  All I needed to do was learn how to become a runner.  I don't get into anything without doing the research.  So, when I read if you can run 30 minutes non-stop, you can finish a marathon, I knew it was time to take on the challenge.
I had just missed the start of the spring No Boundaries program, so I decided to start on my own. I hurt with every step. What kept me going was the reason I wanted to start this experiment: my father, Staff Sergeant James Grant Fletcher, USMC.
My father enlisted in 1966. He completed Basic Training at Camp Parris Island, SC. He went to Infantry School at Camp Lejeune, NC before heading to Camp Pendleton in California. It was on a day in August 1967 when his commanding officer asked for three volunteers. The next day he was on his way to Vietnam. This was just the start of a series of events that would affect my family for years.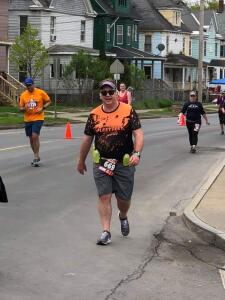 When his mother (my grandmother) passed in 2003, I spoke at her funeral.  As part of her eulogy, I used the questionnaire from the show Inside the Actor's Studio.  For the question, "What is your favorite sight or sound?," the answer was a Marine in his dress blue uniform.  For the question, "What is your least favorite sight or sound?," the answer was the same Marine.
It was easy to stay motivated during the training.  All I had to do was re-read my father's war letters or the book No Shining Armor: The Marines at War in Vietnam: An Oral History (the names in his letters that were featured in the book). My father was part of history.
When I crossed the finish line on October 26, 2014, I had achieved my goal. I had finished the Marine Corps Marathon in memory of my father. I was proud. But wait, there is more.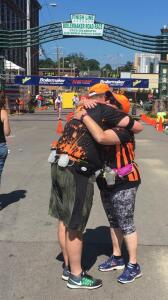 I hadn't achieved the goal time I wanted.  I had invested so much time and energy to do the first one, I figured, "Why stop now?"  So, I did another marathon in the spring of 2015, then another Marine Corps Marathon in 2015.  In 2016, I celebrated my 50th birthday running the Strip at Night (the Rock 'n' Roll Las Vegas Marathon) and now I am training for my eighth marathon, which will also be my fourth Marine Corps Marathon.  Along the way, I have been fortunate enough to have been asked to coach others wanting to achieve their goals, all while still carrying on the memory of my father.
I have two things I want you to take away from this: one is, "It's harder to start than it is to finish" and Maureen's story is another example that women are so much wiser than men.  Do the right thing; start with No Boundaries.