By Kristen Krause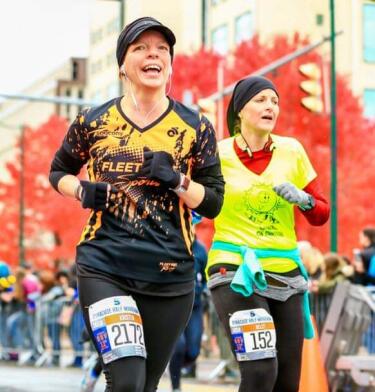 I began running in the spring of 2013. With goals of finishing and not finishing last, I began slowly training for my first 5k where I accomplished both goals, and ultimately fell in love with running. In 2017, after a few fun runs and three Corporate Challenges under my belt, a friend jokingly asked if I was going to run a half marathon. As if this was the next logical step after running a handful of color runs and Corporate Challenges, I said that I was and registered to run the Syracuse Half Marathon that fall.
After a few months of following a plan that I found online and running in shoes that hurt my feet, I went to Fleet Feet Syracuse to buy a better pair of running shoes. It was during that visit where I learned about their Distance Program. I debated with myself for days about signing up—I knew that I didn't have the discipline or the knowledge to train properly on my own, but joining a group where I didn't know anyone else sent my social anxiety into overdrive. The day before the session was set to begin in August, I signed up—not knowing that my life was about to be changed forever.
I remember showing up the first Wednesday night to a huge crowd of people, and felt like everyone else except for me knew one another. It wasn't long until the workout began and I found myself running near another woman who seemed to be paced about the same as me, so I stuck near her. At the end of the evening she introduced herself, and at that moment we became friends. I went home that evening exhausted from my hard work but excited about what the rest of training was going to look like.
As the weeks went on, I formed more friendships and fell deeper in love with running. I couldn't believe how many miles I was able to run and how my endurance and speed continued to increase. I also became more attuned to my body which allowed me to realize when things weren't quite right.
Early on in my training with Fleet Feet Syracuse, I noticed that something didn't feel right. Along with other things, my stomach was often upset. At first, I chalked it up to my body adjusting to the new physical demands I was putting on it, but it wasn't long before I couldn't deny that something was wrong so I went to my doctor with my concerns. Even with my family's strong history of colon cancer, he was reluctant to pursue the possibility of my symptoms being more than my body adjusting to the stress I was putting on it; on my insistence he referred me to a specialist.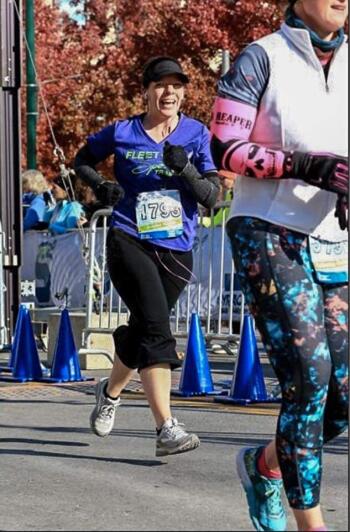 I was soon scheduled for an endoscopy and colonoscopy. The procedures turned up hundreds of pre-cancerous polyps, more than the doctor said he had ever seen in one patient, but none that were cancerous. The plan was for him to continue monitoring me and for me to have genetic testing because he feared I had Familial Adenomatous Polyposis (FAP): a genetic disorder where the body develops polyps within the digestive tract at a fast rate. In October, I was diagnosed with FAP and underwent another round of testing, where even more polyps were found, most still pre-cancerous, but many had begun taking on cancerous properties. I was a wreck, knowing that it was only a matter of time before I was diagnosed with cancer. At this point, I turned to my training for positivity. I began pushing myself on my training runs, getting faster and moving up two pace groups. By the time the Syracuse Half Marathon came around, I had changed my original goal of finishing in under three hours to finishing in 2:45. I was never nervous about how I'd do or if I could finish, because I had faith in my training. Running the course that day was one of the most emotional moments of my life. I swayed between the elation of running my first half marathon to sadness that this may be the only time I ever get to run one—but I knew that no matter what the future held I got to experience it. As I ran the streets of downtown Syracuse near the finish, I remember Coach Mandy running a block with me and telling me how great I was doing and how proud she was. I ran my first half marathon in 2:25, much faster than I had ever imagined I could.
Three days later, I had my third round of scopes resulting in a referral to a colorectal surgeon who confirmed that I was in the beginning stages of colon cancer. Together we decided that because of my genetic disorder, the best treatment plan would be surgery. In February 2018 I had my first surgery to remove my colon and part of my intestines, leaving me with an ileostomy pouch while my body recovered. A second surgery was performed in April to reconnect my intestines and remove the ileostomy pouch. The 7½ weeks between surgeries was the most difficult time I have ever gone through, with days where I wished I could sleep the entire time away so that I didn't have to constantly feel weak and exhausted. Although I felt this way, I knew my situation was temporary and was extremely grateful for my family and friends and for being cancer-free. To get me through the darkest times, I held onto the hope that someday I might be able to run again. I even registered for the 2018 Syracuse Half Marathon in order to give me a goal to work towards.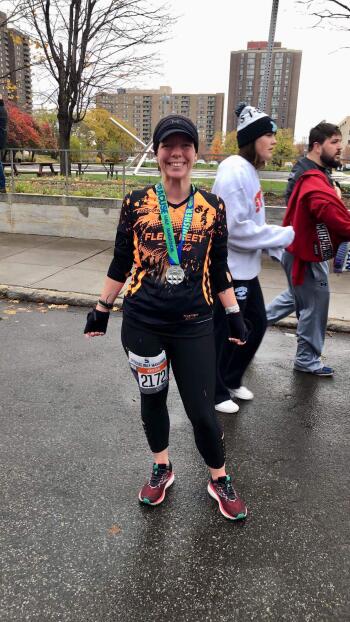 With the green light given from my surgeon, I began taking short walks in order to get my strength back up. I planned on being able to run by June 1st, but was sidetracked with an 8-day hospital stay because my intestines knotted up. Once released, I slowly began my walks again working up to a jog. Eighteen weeks after my initial surgery, I went for my first run—just over a mile. Throughout the summer I worked on figuring out how to be a distance runner again with new dietary constraints, and learning how my body would react to the stress running would put on it. Regaining a lot of my confidence, I signed up for the fall distance program where I found myself in a slightly faster pace group than the previous year. In this group, along with learning more about pacing and nutrition; I learned about myself as a runner—what my body could truly do and discovered the strength I had to overcome the obstacles that stood in the way of me meeting my goals. Ultimately, all of this allowed me to run a personal best time at the Syracuse Half Marathon by four minutes.
I am forever grateful for the things running has brought into my life. More than once, doctors have told me that if not for my running, I may not have been diagnosed as early as I was or healed as well as I have. Due to my FAP diagnosis, I will always battle with health concerns and their effect on my lifestyle as an athlete. I have good days and bad days but as long as the good days continue to outnumber the bad, then I will continue running. Running has given me the confidence to face difficult situations head on, in all aspects of my life. Most importantly, running has brought a solid group of people into my life that are more than just the people to run with. They have become some of my closest friends; my tribe, my squad, my people.