By Julie & Len Matyasik
Julie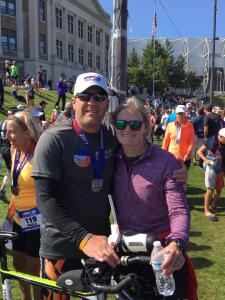 I grew up swimming, but ever since I was a kid I wanted to be a runner. I thought it was an easy way to work out, all you had to do was walk out your front door and all you really needed was a pair of sneakers (ha!). I figured with a busy family, it would be great. I tried some online programs, but I struggled to stay consistent and could barely make it to the first walk break.  
In 2001, I became diagnosed with the first of several autoimmune diseases. I would go through phases where I was able to exercise, and then go back to times where I was barely able to get out bed. As time moved on, my symptoms became more regulated and I learned how to better handle phases when I was flaring up.
Fast forward to the spring of 2011: both my kids were busy with their high school sports and activities, my husband was busy with his sports, and I wanted to break out of my comfort zone. I'd looked into Fleet Feet Syracuse's No Boundaries for about three years and I was finally ready to give it a shot. I signed up for the Summer program in 2011 with the ARC 5K as my goal race. I was hooked! I loved the camaraderie and was sad to see the program end after the race.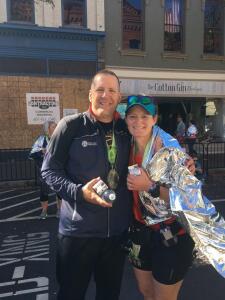 At our last practice, Coach Brendan Jackson came to tell us about "Advanced 5K" (also known as A5K, and now known as No Boundaries 2 10K). I didn't think I was anywhere near advanced, but Coach Brendan made you believe you could do anything, so I signed up for the next session. During A5K, I met some pretty amazing people that I remain friends with today. We would meet for homework runs several times a week and began to talk about future goals. This led me (and my friends) to sign up for the Fleet Feet Syracuse's Winter Triathlon program in December of 2011. That turned into Spring Triathlon and I participated in my first triathlon, the Iron Girl in 2012. I fell in love with the sport and was so happy to get back to my love of swimming.
I continued to meet the most wonderful people, was feeling great, and was invited to become a coach in the Fleet Feet Triathlon program. I continued to participate in triathlons and coach Winter and Spring Triathlon until 2019. I loved being able to help people reach their goals, whether it be a sprint triathlon, learn to swim or just do something they didn't think was possible.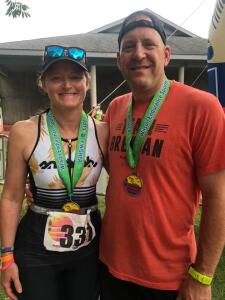 In 2014 I decided I wanted to attempt a half marathon. I joined the Fleet Feet Syracuse's Distance Program in July 2014 and trained for the Wineglass Half Marathon that fall.  I remember realizing around mile 11 that "This was happening!! I was doing it!", and it was the best feeling. I loved it so much that I decided to run the Empire Half Marathon two weeks later. That ended up not being my best decision since I really overdid it and sprained my ankle about a mile from the finish. I went on to heal and continue to live life loving triathlon, coaching, and running with the Distance Program.
By fall of 2015, I was starting to have trouble with my hip, getting up and going up and down stairs after my long runs. I finally went to the doctor and found out I had a labral tear and would require surgery. I had surgery in December of 2015 and that started a long series of recovery, more injury and continued recovery. Today I am getting back to triathlon and running and am training for another Wineglass Half Marathon (I had to defer last year).
My involvement in the Fleet Feet Syracuse community has brought me many blessings. The friendships, memories, and the impact it has had on my life is nothing but positive. Being a part of this special crew has taught me a lot about myself and has given me an opportunity to also help others. I also love that my husband and I do this together and that we share this. It has been, and will continue to be, a part of our lives for a long time to come.
Len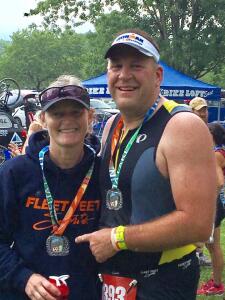 My journey with Fleet Feet Syracuse would never have started without Julie.  You see, I grew up riding a bike.  I still love riding my bike.  I can remember the day I learned to ride a bike without training wheels.  It was a magical feeling, and still is.  In 2011-12, when Julie was running with No Boundaries and starting out in the Triathlon Program, I was busy playing some pick-up basketball and a lot of volleyball.  I wasn't in very good shape, and pictures from that time only prove my point.  She would come home and talk about all the fun she had and all the great people she was running, swimming, and biking with.  I'd met a few of her friends and seen some workouts, but it wasn't for me at that time. 
Then, I got hurt.  In the fall of 2012, I tore up my right shoulder pretty bad diving for a ball in a volleyball match and ended up needing surgery.  After the surgery, I quickly realized that my volleyball days were over for a while, but I needed something else to do.  I walked into the kitchen and asked Julie if she minded if I joined the Triathlon Program with her.  I still loved riding my bike (this was something we started to do together more often) and I thought she could teach me to swim.  Well, she did.  I wasn't very good in the beginning, but she helped me get through my first few races.  I also met a lot of really cool people in the program who ended up becoming very good friends.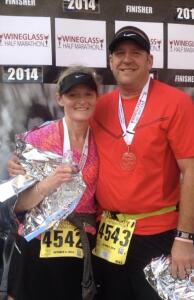 Fast forward to Summer 2017.  I'd finished several triathlons and a few half-marathons, but I was realizing my run is not very strong because I don't like doing it and I don't know how to train for it.  I joined the Distance Program with the goal of running a half marathon in under two hours.   For the first time in my life, I started to train for running and I really found myself enjoying it.  Sure, it was hard and hot and sweaty, but I met a great group of people who helped me push myself, and I learned so much about how to train.  I finished the Wineglass Half Marathon in 1:56 that year.  A few weeks later, I finished the Syracuse Half Marathon in 1:56 as well. 
Last year, I trained for and ran my first marathon with Fleet Feet Syracuse.  This was an incredible experience because it is something I never thought I would be able to do.  I'm not built like most runners, and I just never imagined I would want to run that far. Finishing the marathon gave me a lot of confidence in myself.  The training and race day are things I will never forget.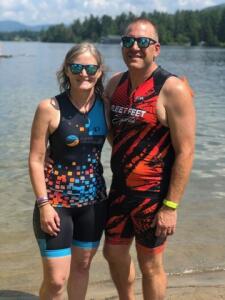 Fleet Feet Syracuse's training programs have been a wonderful part of my life.  It's been a lot of work over a long time, but I'm training for my second marathon, still racing triathlons, and getting to work out with a wonderful group of motivated people who still help me push myself to new limits.  I'm so glad Julie didn't mind me joining the program with her; it's been a life-changer!