By Jenn Sciacca and Larry Schiavone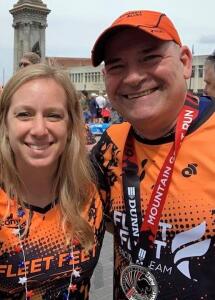 Our running journey started a while back; Jenn's began in 2008 and Larry's began in 2010, both with a local Manchester, NH running store. We have been active in teams our entire lives from gymnastics to soccer to hockey to football, but as with everything, time moves on and we all need to find other activities to maintain our health, both physically and mentally. We ran many races with this group over the few years we spent with them; Jenn ran six half marathons and numerous 5Ks/10Ks and Larry ran an equal amount of 5K/10Ks, one half marathon, a Tough Mudder, and multiple Spartan races. We made a lot of really great friends with this group, and we are still in contact with and see those friends today.  It was with a running group that we found the camaraderie we were missing from all the sporting activities we had participated in over the years. The experience also helped to strengthen our relationship because it was an athletic activity we could both participate in and root for each other.
In late 2012, we were transferred from the Boston area to Mount Holly Springs PA, just south of Harrisburg. Shortly after the move to PA we realized how much we missed our running group and the friends we had made over the years. Initially after our move we would run with friends we made with our running group back in Manchester NH. We ran in New England, PA and even a few races in other areas of the country (Virginia Beach, Maryland, and Myrtle Beach).  In an attempt to regain the synergy that develops when running regularly with a group of people, Jenn started her personal training business which included Couch to 5K coaching.  However during our time in PA, we never really found another running group that welcomed all abilities (probably because we were unaware of Fleet Feet Mechanicsburg, which is owned by a former staff member from Fleet Feet Syracuse).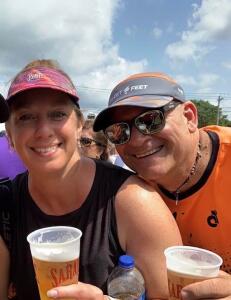 In 2017 we again relocated, this time to Syracuse, NY. For the second time in four years we were looking for a way to meet people in a new community. Some of our new co-workers mentioned Fleet Feet Syracuse, so we checked it out and the minute we stepped into the DeWitt location we realized we found our new running store. In August of 2018, we signed up for our first fall Distance Training with Fleet Feet. It had been a few years (due to long work days and a few orthopedic surgeries between us) since we had really run consistently, let alone train for a race.  Jenn can remember telling Larry she was nervous to go to that first run; she was so afraid she wasn't going to have anyone to run with and that she would be the slowest one out there. However, it was the complete opposite! The coaches and runners were so supportive and they all welcomed us with open arms. They made us feel like were part of the team from Day 1.  There was not any judgment; just a warm, receptive group of people with personal goals who were looking for the same thing we were. We are now on our third distance training cycle with Fleet Feet.  Each training cycle has created stronger bonds with relationships made from a previous cycle while also creating new relationships in the current group.
The coaches have been beyond supportive, encouraging, and motivating and we feel they are our biggest fans!! The support during our training runs and the course support from both the coaches and from the entire Fleet Feet Syracuse running family is impressive. Our next goal is three half marathons (Old Forge Half Marathon, BAA Half Marathon, and the Syracuse Half Marathon) in a span of eight weeks. The BAA Half Marathon's significance is that it will be Jenn's 10th and Larry's 5th half marathon, respectively, and  Boston will always have a place in our heart.
Fleet Feet Syracuse's Distance Program has enabled us to assimilate ourselves into the Syracuse community and we have made some great friendships over the last year that we know will last the rest of our lives!