By Della Pierson and Erik Radomsky
From Erik's teammate and coach, Della Pierson:
Erik is hard to miss out on the roads, he is a lean, 6'7", running machine! He is quiet and dedicated and never told his story until I asked him direct questions after seeing some of his photos on social media. I wanted to see him cross the finish line in Virginia Beach but he kicked my butt out there! He is moving into my group in the Distance Program and I am so happy about that! He is a true inspiration and one helluva sweet guy! Here's his story in his own words:
Everyone talks about that one AHA moment that changed their life. Mine wasn't one particular moment, but more of an entire year (2013).
I was in a pretty dark place having recently been diagnosed with high blood pressure, diabetes and topping the scales at over 550 pounds. I knew something needed to change! I made a commitment to myself to get healthier. I joined a gym and took the first steps towards a healthier lifestyle. After a year and a half I lost over 100 pounds on my own, but then hit a wall, I couldn't lose any more, only maintain. After a few months of back and forth on the scale, I knew I needed help. I went for my first consultation for weigh loss surgery in 2016 at a weight of 435 pounds.
In June of 2017 I had gastric sleeve surgery at a weight of 380 pounds. I always felt that surgery was the easy way out. That couldn't be further from the truth! I finally understand what people mean when they say losing weight is a lifestyle change.
June 2018 was the one-year anniversary of my surgery and I weighed in at 230 pounds, a loss of over 300 pounds, which I have been able to keep off to this day.
The fear of putting weight back on is always in the back of my mind. That fear is part of what lead me to running. I've always wanted to run but never could because of the weight. So, in the spring of 2018 I went to an information session at Fleet Feet , joined NoBo and haven't looked back. I'm currently in the Distance Program, have completed numerous 5ks, a 10k, and just finished my first half marathon. Quite a change for a guy who would literally get winded walking up 5 steps.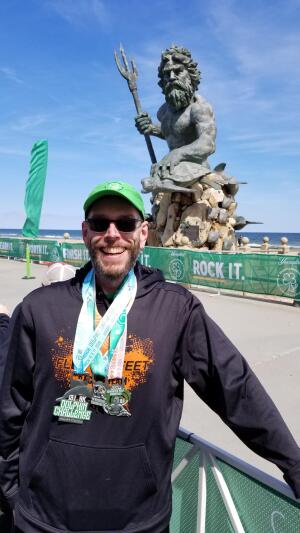 Editor's Note: Thank you for sharing your story, Erik! We are proud to have you as a part of our Fleet Feet Syracuse family!