Think you're too old to run? Think again! Bonnie Misch may be just the motivation you need! She started running after retirement and is still going strong! Read her amazing and inspirational story,  lace 'em up, and join our Fleet Feet Syracuse team! You'll never regret it!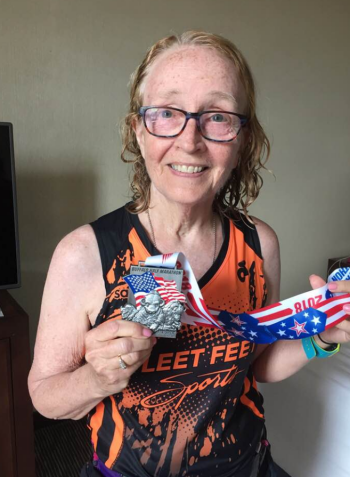 I learned a long time ago from my beloved mother that age is just a number. It's not who you are! So, after our daughters left home as successful adults and I retired from my dream career in education, I needed another challenge. My husband was always a runner for health benefits so when I saw an advertisement for Fleet Feet Syracuse's "learn to run" program, I signed up. We could run together! At the age of 64, I showed up for the spring 2010 No Boundaries Program and I have never looked back. It's been a rewarding journey!
Between 2010 and 2014 (with the exception of 2012 when I lost almost a year of training due to my second battle with breast cancer) we ran in the Advanced 5K and Personal Best programs, sometimes both of us, sometimes just me. Fast forward to 2015..... Ed and I ran the Boilermaker 15K with our son-in-law, John. It was my first long race and I loved it! After crossing the finish line, my husband said, "Never again will I run that far!" John said, "I can't believe my mother-in-law is drinking beer at 10 in the morning" and I said "I. AM. ALL. IN!!" At that moment I knew I could add four more miles for a half marathon!  I decided to register for the Distance Program.
Later, in 2015, at the age of 68, I ran my first half marathon! Since then, I have run 12 half marathons, another Boilermaker, the Lake Effect Quarter Marathon, the Dunn Tire Mountain Goat Run Relay, and several 5Ks. For 2019, I am registered for the Dunn Tire Mountain Goat Run Relay, the Buffalo Half Marathon, and the Syracuse Half Marathon presented by Byrne Dairy.

I enjoy the sense of community with my fellow runners and with the coaching, training and encouragement from my Fleet Feet Syracuse family, I realize I still have more in me!
Don't let that birth date define who you are, even if it was a long time ago! Run Happy! Run Strong!