By Bob and Wendy Savage
Bob
My running odyssey began when I was in High School. My sophomore year I joined my High School Indoor Track Team as a shot putter. I became good friends with the distance runners and looked up to them for their dedication. 
After track season, during which even overweight shot putters were required to run up to three miles a day, my friends convinced me to join their summer "running club." I grew up in the country so each day I would ride my bike five miles into town to meet my friends, run 6-8 miles, and then ride my bike back home. 
As the summer progressed I improved by leaps and bounds and lost 30 pounds in the process. That fall I ran cross country and enjoyed it a lot. My second year our cross country team had its first winning season in decades and my inner circle of friends were all runners. We became brothers for life.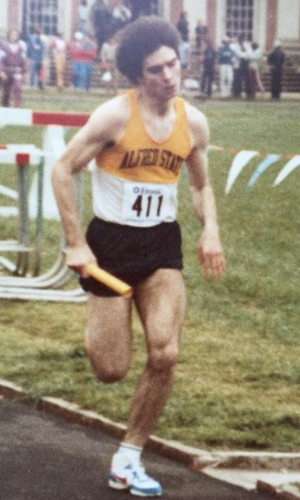 That spring I qualified for sectionals in the 800M. I wanted to continue to run in college but received no offers. So I wrote the cross country coach at Alfred State College and expressed my interest in running for him -- Alfred State had just finished 20th in the nation for cross country the year before for Junior Colleges. He responded with a welcome invitation and explained they had a time trial to determine who would make the traveling team. That summer before college my only focus was to make the travelling team (top 10 in time trials). I ran every day no less than 10 miles each time. I dedicated myself like never before as I had one goal. When I arrived on campus for our first training run, I met the team that was loaded with sectional champions from all over New York. I'll admit I was a bit intimidated. When the day came to run the time trial I finished eighth. I could not believe it. 
During my two years there I continued to train hard and improve and qualified for Nationals in cross country my senior year. It was the summer before that I accomplished a goal I had always dreamed of, however: to run a marathon in less than three hours at the Junior College National Championships. The race took place in June in Dowagiac, Michigan, and was the only National Championship marathon race in college athletics. 
I trained hard with my goal to break three hours and traveled to this race with our fastest man on the cross country team and his father, a high school coach. I had never come close to beating my friend.
The big day came and we ran together for the first half of the race. I felt great but he was struggling and told me to go ahead. So I did and ran negative splits the entire way. When I turned the corner to the finish the clock read 2:40:00! The emotion that poured out of me was immense. I finished a little over 2:41:00, crushing my goal. A younger version of me would go on to run five more marathon finishing with a personal best of 2:40:21.  
I continued to run in college and transferred to Old Dominion University in Norfolk, Virginia. This gave me an opportunity to run Division I. After a performance running the Dogwood Relays 10000m, where I was lapped three times, I decided the marathon would be my best event. Until I tore every ligament in my left leg during a game of basketball. I was sidelined for quite some time and even after rehab, I couldn't quite put the miles in that I used to. 
I always spent my life around running and worked at a local running store for a while until I eventually moved to Cary, North Carolina, where I met my wife, Wendy. Once I started my new job with American Airlines in Cary, my running days were limited. Wendy and I never ran together and I would only run occasionally because 'once a runner, always a runner.' 
Shortly after our second daughter was born I had the opportunity to transfer back home to Syracuse. So I dragged my poor wife and kids from the comfortable weather of NC to the harsh winters of NY. 
As the years went on I stopped running except during Corporate Challenges and learned how out of shape I had become. After the graduation of my first daughter, my wife decided to try the Fleet Feet No Boundaries. She would religiously go to the practices and It seemed to help with the absence of our daughter being off at college. I started running again too and when Wendy was ready to jump to the Personal Best program I decided to join her. I could not believe the joy of being around running again. As the years have passed we had become more entrenched in the Fleet Feet programs and made such a nice network of friends that I consider more like family. I had the honor to run with my wife during her first half and full Marathons. I could never be prouder watching her persevere and carry on even as she struggled with plantar fasciitis and right knee arthritis which bothers her to this day. 
One thing I learned during this journey is that runners are great, kind and generous people. It's just as hard or harder for some to run a 13:00 minute mile as it is for some to run a 5:00 minute mile. The mental toughness you gain from pushing your body when it says "I don't want to" is what separates runners from regular people, and makes us one large family.
Thank God for runners.
Wendy
I was never a runner. We raised our two daughters and our time was spent running them around to their extracurriculars and watching them be successful with their sports. But when my youngest was a senior I started looking for something I could do with Bob once we became empty nesters!
That's when I joined the No Boundaries program. Then the Personal Best program. Then Advanced 5K! 
After taking those programs I jumped into the half marathon program! I loved the distance and the rest is history. The Savages have been running together for almost 9 years now.
Bob ran with me for my first half and full marathons and he has always been my biggest cheerleader! I needed to apologize many times for things I have said to him while sore and tired on the course!
It's been tough for him to get used to his "old man times." At any race that we run together now, you will always see him walking back from the finish line to come cheer or run me in!
We have now passed that passion for running on to our daughter Kristine and we ran with her during her first half marathon and full marathon as well. One of our biggest accomplishments so far was completing the Dopey Challenge with Kristine this year!
Now as we are getting older, we plan "Runcations"! We love to travel, so we run, vacation and spend quality time together as a family.
I love that we run together.