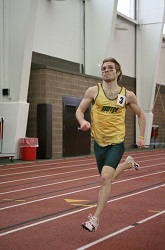 Look out behind you! OK, now that I have your attention I'd like to introduce myself as I'll be answering your questions for "Ask the Coach." My name is Phil (@ourcoachphil on Twitter) and I have been coaching since I got out of college in 2008. I've coached junior high, high school, college and post-collegiate athletes coast to coast. Before I start answering your questions, I wanted to share more about my coaching style and philosophy.
Coaching Philosophy
In high school I was fortunate to have had an extremely experienced track coach. One day he said something that stuck with me and ultimately became the basis of my coaching philosophy. He compared coaching to being a jeweler, in the sense that he was given gems to shine. Some gems were nearly perfect and just needed some brushing up. Others, however, had certain flaws that required more attention and care but have the potential to be great.
That is what coaching is to me. Helping athletes get to their highest potential, not only as athletes but also in their academic and personal lives. I firmly believe this can be accomplished by using trust, communication, open-mindedness and belief as tools for helping athletes shine.
Trust is an essential part of being a coach. Good ethics are a basic part of trust. An ethical coach is one that you can respect and trust to be looking out for the athlete's best interests. With a trust-based relationship, the coach and athlete will have open lines of communication that will help them find success.
In order to help ensure optimal success there must be transparent communication. Open communication will help both parties learn, understand and grow. The coach will be more equipped on how to best approach the athlete as an athletic educator and a motivator. A coach can only gain more perspective from the free communication exchange, thus helping them keep an open-mind.
I know my way isn't always the best way and what works for me may not work for others. Being able to take criticism and always being able to adapt is an important part of coaching. Coaching is a learning, evolving, experience not just for the athlete but for the coach as well.
Last and most important is belief. A coach needs to believe in the ability of his or her athletes to help ensure that they reach their full potential. Showing your athletes you believe and support them only adds to their experience as well as helps promote self-esteem. These are attributes that can carry into their personal lives as well. It is also important that an athlete believe in their coach. A coach must listen to his or her athletes and work together to establish a plan with attainable goals.
These four ideas are the tools I feel a coach needs to polish athletes into well-rounded, successful people, on and off the track. With enough work and care, even the most flawed can shine just as brilliantly as one that is nearly perfect.
Questions? Email me at coach@fleetfeetsyracuse.com and I'll do my best to fill the largest size 9 shoes on the planet! 
Coach Phil