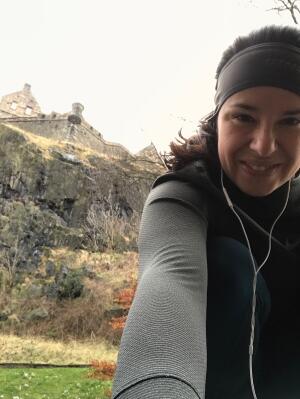 By Lauren MacDonald
Sometime in September, my best friend and I found a super cheap flight to London for the middle of February, so we decided to plan a trip—we bought the tickets and then I promptly put it out of my mind, because back then, February seemed far away. At the end of January I realized my trip was right around the corner. Despite my excitement, I was a little concerned because I was in the midst of my longest running streak, and I didn't want to break it just yet.
And while my best friend isn't a runner, she's known me long enough to indulge my obsession and was unfazed by my declaration that I HAD to run every day. This was my third trip to Europe in the past two years, and each time I go, I go with the full intention that I'll run while I'm there. This is the first time that I've actually followed through.
Here are some fun observations and tips from my runs through the United Kingdom:
Pack light: I know I've already written a blog post about running while travelling where I talked about packing light, but during my trip to the U.K. I brought a single backpack for a seven-day trip. I brought a single pair of leggings, sports bra and long-sleeve running shirt, which I proceeded to wear every day for seven days. While packing I balked at the thought, but I laid them out after each use to air dry and they didn't smell bad at all!
Run Where the Locals Run: My friend and I opted to stay in Airbnb's (essentially renting a room from a local for a few days) in each city we visited. From a budget standpoint, it was FAR cheaper than a hotel, but from a tourist-y standpoint, it was really great because we got the inside scoop on each city we visited. Our host in York was immensely helpful when I mentioned I was a runner and pointed me in the direction of a nice little running path I took full advantage of. In Edinburg, Scotland, a couple in a pub mentioned a path underneath the castle that was great for running—and selfies! (See photo.)
Be Alert: Although this should go without saying on any run, I found it especially important during my runs in the U.K. Since they drive on the opposite side of the road, I found myself needing to be especially wary and alert during my runs. There were several times I thought I was clear to cross the road only to realize I had looked in the wrong direction and there was a car quickly approaching that I needed to dodge. Having spent several years in Washington, D.C., I thought I was fairly adept at car-dodging, but it's a whole new level in an international city.
My ultimate takeaway from my run through the U.K., however, was something I thought I already knew but it took on new meaning after my vacation—you can run anywhere you've got a pair of sneakers and an open road (or trail or grass or bit of earth).