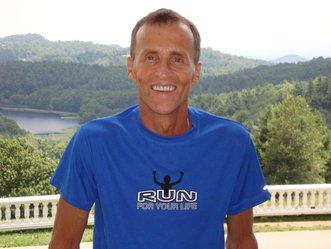 By Ed Griffin
The bottom line is if you have not seen Dick Beardsley speak, you need to do it.  Fleet Feet is hosting the Minnesota native this Tuesday evening (September 25) at 6:00 p.m. in our DeWitt store, for his third trip to Syracuse. The event is free and open to the public.
When you look at the biography of Dick Beardsley, it tells the story of an amazing life:
Motivational/Inspirational Speaker • Suicide Survivor of Loss • Farm Accident Survivor • Prescription Drug Addiction Survivor • Record Breaking Marathon Runner • Famous 1982 Boston Marathon Runner • Minnesota Native • Author • Fishing Guide • Innkeeper • Husband • Father • Subject of a feature film
I have seen my share of speakers from famous athletes, world leaders and successful business people but none have had the impact on me as Dick Beardsley. He is one of the world's most extraordinary, well respected, and compelling motivational and inspirational speakers you will ever see. He can make you laugh, cry and laugh again, all in a few minutes.
You may not know this but Dick was not an immediate success as an athlete in his high school days.  Trying out for the football team at his school in Minnesota was a defining point for Dick's athletic career and in his telling of this story will help you understand why he turned to running and that anyone can become a better runner.
On this trip, Dick will be speaking at a local high school assembly, a local high school cross country practice and the open to the public talk on Tuesday night where he will be sharing a myriad of running stories, tips and answering questions.
Don't miss this talk by a legend of running and life. Dick Beardsley is recommended for all age groups but space is limited.  All attendees will be entered into a raffle to win a pair of New Balance shoes!