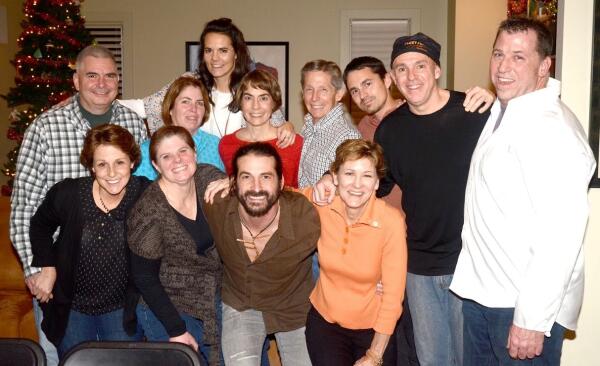 Happy New Year!
We love this photo, taken this past weekend by our friend Charlie Miller. It represents so much of our mission at Fleet Feet Sports, Syracuse. In the photo is a mix of our friends, employees, Orange and Black Team members and a professional musician friend of ours; who all work together to help each other and to build a community of people who believe in helping people first.
In this light, we want to share with you some of the plans we have for 2017, our 17th year in business. Our team has set a goal of increasing the experiences that our community has with Fleet Feet Sports and to raise the bar for service to everyone we connect with.
In this message, you will find a few of the key initiatives we have planned for 2017. Certainly these are not all of the things we are working on but in this busy world we realize we need to get to the point and quickly.
As always we would love to hear from you, so feel free to contact us at ed@fleetfeetsyracuse.com and ellen@fleetfeetsyracuse.com.
Thanks for everything you do.
Ed and Ellen Griffin
---
Training Programs and Fleet Feet Sports Racing Team
 The Fleet Feet Sports Training Programs and Fleet Feet Sports Racing Team are for anyone who wants to have fun and get more fit. There are over 170 people in our current half-marathon program and many other athletes are training with us for triathlon and cross-training this winter.
Fast like a hare, slow like a turtle or in-between? Makes no difference to our coaches, who work with all levels of people who want to run.  Someone told us this weekend that they love being a part of our programs because it keeps them from hitting the snooze button and staying in bed.
Free community runs and fee based coached programs ranging from our No Boundaries: Begin to Run Program to just about every other distance under the sun, including triathlon.
Have fun, get more fit and be part of a community who will support and laugh with you along the way. Explore all we have to offer in our Training Programs and Orange and Black Fleet Feet Sports Racing Team.  Make Fleet Feet Sports Training your personal "wake up" service.
Special Products and Services for our Fleet Feet Sports Customers
We are planning to launch two very special experiences for you this year and can't wait for you to jump in with both feet.
New: an exclusive running shoe line from Karhu. These shoes will be special because our team at Fleet Feet Sports worked with Karhu to develop them, plus they are really cool running shoes that will make you look faster just standing in them.  Karhu is taking feedback that we hear on the fitting stool from you on regular basis and using that to design these shoes.
Coming: an enhanced FIT Process for buying shoes. We are investing in new 3D technology that will help in analyzing the shape of your feet so that we can select the best fitting shoe for you.  Science!
Now:  already launched is a personal shopping service with our best shopper, Adrienne Mylott. Trouble making up your mind? Want someone to tell you if you look better in red or blue or want to talk about Pearl Jam or the Adam Ezra Group? Adrienne is for you!  Adrienne considers the products you have liked in the past to make future suggestions for you and also will help you with gift buying. It is like having your own personal assistant free of charge. Contact adriennem@fleetfeetsyracuse.com.
Corporate Fit – We Come to You
In 2016, we visited over 20 different Syracuse area companies with our Corporate Mobile Fit Clinic, where we bring shoes and accessories and recreate the Fleet Feet experience at your company. We also awarded local Workplace Wellness Grants to two local organizations that will help each company create opportunities for their employees to be healthy.
We have room to do 40 Mobile Fit Clinics in 2017, make sure your company gets on our calendar.
We are expanding our offerings to include exclusive running, walking and fitness training programs for your company and are now reaching out beyond Syracuse to Cortland, Oswego, Watertown and Utica with our Mobile Fit Clinic service.
When Fleet Feet Sports comes to your company, we come bearing gifts in the form of employee discounts and other surprises. Our mission is to work with each company to help their employees be well and more productive and there is nothing but good in that.
Learn more by visiting the Corporate Fit page on our website. 
So spread the word at your company or companies you know, we are ready to help Central New York get fit, one company at a time.