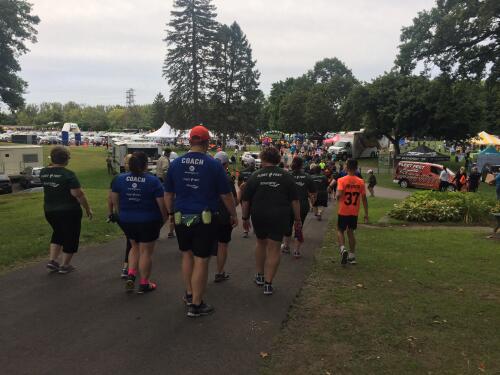 By Coach Mallory Mitchell
We had a taste of fall this weekend with cool, crisp air; I actually wanted to put on more than the minimum attire when heading out the door. Aside from more comfortable weather, fall signals the start of school and getting back into a routine.  I've been there, that back-to-school dread, but once back in the swing of things, consistency feels good.
The same can be said for an exercise routine; daunting and challenging at first, once committed, you'll find yourself happy with the regular schedule. Just ask our most recent graduates of the No Boundaries 5K Training Program; with their summer session culminating in the ARC 5K this past weekend, enthusiasm was abound!
One new runner gained so much more than a medal at the end of the race, she found her confidence increased throughout the training and in many ways, she felt stronger. Exercise is a funny thing; it's more than helping to physically feeling better, your mood is also greatly affected, especially with consistent effort.
But don't worry, you don't have to train alone! A new batch of fall training programs is set to begin on September 15th. The ever-popular No Boundaries 5K Training Program, including WalkFit, NoBo2, and the traditional begin-to-run teams will meet for 10 weeks starting this Saturday. Also running at the same time and place is the Kids' 5K team (ages 8-12) and another round of Kids in Motion (ages 4-8). NEW this fall, NoBo2 10K, for those already able to run a couple miles and looking to add more distance with an encouraging and fun team!
Now is the time to make your workouts a consistent routine. Take advantage of the new season and join one of the Fall Training teams today!