By Laura Henry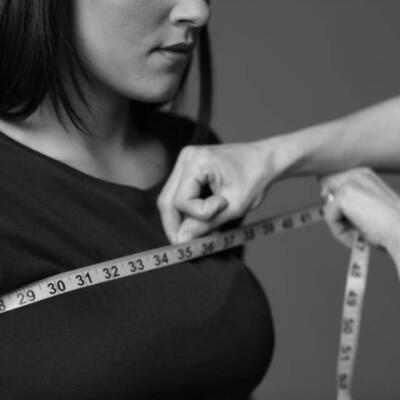 Bras are a common garment in the United States, but it's a garment that so few people actually speak openly about.
The truth of the matter is that a bra is probably the single most important garment in a woman's wardrobe.  Why? Because breast size varies greatly from woman to woman, and as such, a properly-fitting bra is critical for both of the things that people consider most when considering a garment: comfort and aesthetics.  Despite this, 80-85% of all women are wearing the incorrect size of bra, and therefore are not getting proper support from the garment.
More than 70 percent of women will experience breast pain at some point in their lives.1  Women with larger breasts are more prone to this due to the strain that the extra tissue places on their bodies, most especially their backs and shoulders.  There is only one structure supporting all of that breast tissue - the Cooper's Ligaments. If these ligaments stretch out and lose some of their structural integrity, they cause additional strain on the body, and therefore increased pain.
A 2013 study conducted at the London Marathon found that more than one-third of women experience breast pain while exercising.2  A recent study published by the University of Wollongong, Australia found that this pain is significant enough in women who have larger breasts that it limits the amount of physical activity that they are willing or able to complete.3  Breast pain can cause a number of secondary medical issues, with back problems and pain, breathing issues, and migraines being just a few of those.
At Fleet Feet Syracuse, we are passionate about helping women be properly fit for bras.  We do not want women to be in pain, and we certainly don't want breast pain to sabotage a woman's desire to be active.  A properly-fitting bra supports the breast tissue and keeps the Cooper's Ligaments from stretching out. All of our staff members (female AND male staff members) receive training on the value of a well-fitted bra, and all of our female staff members are able to perform a personalized fitting so women can be assured that they are wearing the correct size.
If you are a woman, we encourage you to come in and sit down with one of our well-trained Outfitters to discuss how a properly-fitting bra can enhance your quality of life.  If you are a man who has a woman in your life who you love (girlfriend, wife, daughter, sister, friend, etc.), we encourage you to have an open discussion with that loved one about this important topic.
A bra fit is SO much more than a bra fit.  It's a stepping stone for a comfortable and active way of life!
Laura Henry has been employed at Fleet Feet Syracuse since 2016 and has been an endurance sports coach for more than six years.  She is the Head Coach of the Triathlon Program and Fleet Feet X-Training Program (FFXT) as well as the Coordinator of Fleet Feet Syracuse's Workplace FIT Program.  Outside of work, Laura enjoys traveling, photography, reading, and cooking.  She can be reached at lhenry@fleetfeetsyracuse.com.