By Lisa Ashbridge
Are you ready to shake up your running routine? Do you love to run, but just need to add some variety? If this sounds like you, perhaps trail running is something you should try! Here are eight reasons why you'll love running trails: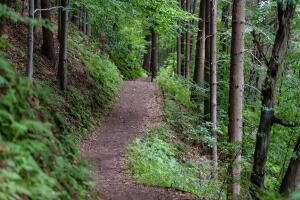 1. You won't get bored
Running up and down the same streets day after day can get dull. With trail running, you experience different sights, smells and terrain with every mile. Even on the same trails, things look different depending on the season, time of day, and weather conditions.

2. It improves every element of your fitness
Uneven ground improves ankle strength, flexibility and balance. Having to vary stride length to deal with roots and rocks improves agility and coordination. Running down steep hills improves leg speed and conditions muscles against impact. In addition to becoming a better runner on the trails, your performance on the road or track will benefit.

3. It's not as hard on the body as the pavement
Grass, mud and earth are kinder to your body than running on roads. If you're already a regular runner, give your joints a break by running on softer surfaces once in a while. If you're just getting started as a runner, trails are a great way to ease in as there's less impact on your joints.

4. It will improve your balance
Roots, rocks and twisty trails demand more stability than running on roads. To maintain balance, your body naturally engages your core and wakes-up the stabilizing muscles that rarely get used when you're on the flat. The result is a fine-tuned sense of balance, better body awareness and great abs.

5. It gives your brain a workout
Following the ups and downs of a trail gets your brain working in a whole new way. When running trails, you really need to focus on the task at hand as you are navigating uneven terrain.

6. It's great for mental health
Running in the woods and reconnecting with nature will provide you with much-needed headspace. You will feel the stress of the day fall away.

7. There's always a sense of achievement
Regardless of your pace or ability, dealing with hills and tough underfoot conditions makes you feel that you have done more than just run from point A to point B. You've conquered something.

8. It's Fun!
Let's face it…pounding the pavement can get boring. Splashing through puddles, getting muddy and running fast through the woods is just plain fun!

Want to find out for yourself? Sign up for our Trail Training Program and fall in love with running trails!