Busy work schedule? Not enough time on the weekends? 
No worries. We take appointments.
Schedule an appointment ahead of time to ensure one of our FIT specialists will be waiting for you when you arrive at our Dewitt or Clay locations. 
Our FIT Experts are highly trained at fitting you for the right gear. In fact, we are all about helping you find the proper fit and you can read more about our FIT process below. When you enter any of our locations, our FIT Experts are prepared to listen to your story. From your struggles to your goals and accomplishments, your story will give great insight into the best type of gear and the best fit for you. The process to find the right fit is designed to be an all-encompassing process, as we recognize the true impact of a proper fit and your health and goals. 
And if you would rather play it by ear, we also take walk-ins seven days a week. 
---
Our FIT Process
We are dedicated to helping you find the right fit!
We are passionate and committed to powering the health of our community. Through continuous training of our staff who not only provide epic service, but superior knowledge and an unmatched FIT process, we prove that our customers are our #1 priority – every time.
So, what does that mean? Our FIT process focuses on providing you with the right shoes, gear, and knowledge for you to move at your best – whether that's a 10-minute walk, running a marathon, or anything in between. Let's begin here: Listen. Watch. Act. Plan.
---
FIRST, WE LISTEN
Tell us about YOU. Are you running currently? Walking? What are your goals, your struggles, your limitations? There's no such thing as too much information here and the more we can discover, the better we can help! 

SECOND, WE WATCH
Let's get low – to the floor, that is. To get the best assessment of your feet, we'll scrutinize your every stance, stride and step from the ground level. And while we assess the biomechanics of your foot, we'll be mentally mining through our extensive product selection to come up with the best shoes and gear specifically for you.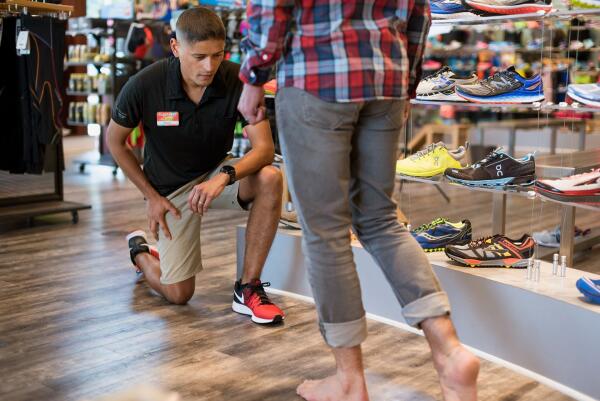 THIRD, WE ACT
Here's where the rubber hits the road. Whether you try on a couple pairs of shoes or eight, we will work with you to find that right match. From getting them on to lacing them up the right way, we're there through the whole process. We may also talk socks, insoles, gear or apparel – anything we think might benefit you.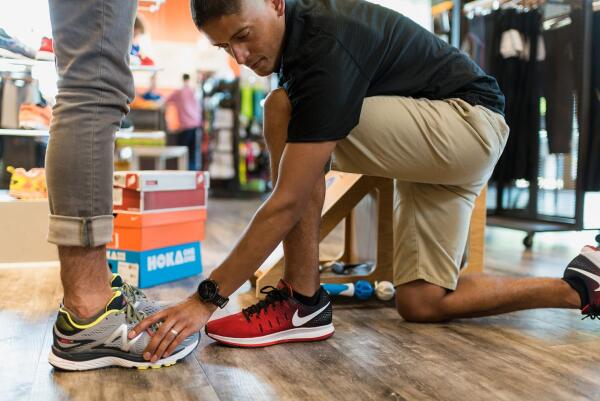 LASTLY, WE PLAN
You're geared up and ready to go, so what's next? Time to look ahead. Training programs, tips, injury prevention (or recovery) – these are all things we're more than happy to discuss and plan right alongside you. The end of the FIT process is only the beginning!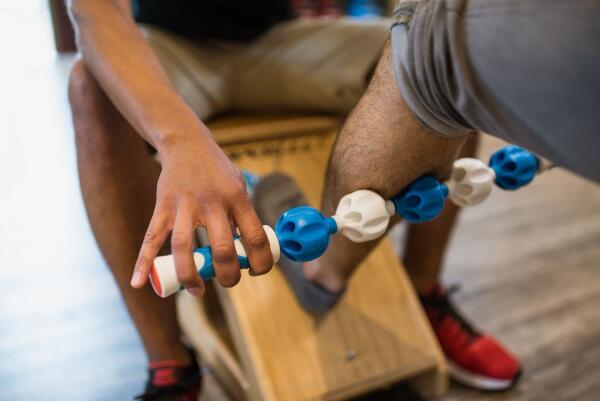 Ready to get started?
Before your next run, your next shift, your next move, stop in and experience the magic of getting fit.