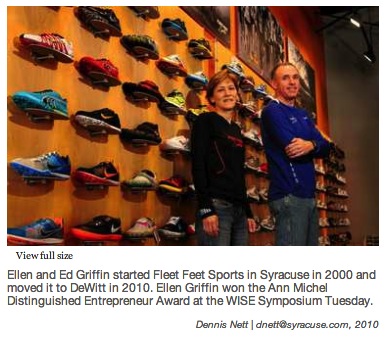 Syracuse, NY -- Ellen Griffin, co-founder of the Fleet Feet Sports shoe store in DeWitt, won the Ann Michel Distinguished Entrepreneur Award at the WISE symposium Tuesday, but her thoughts were on the Boston Marathon bombings 24 hours earlier.
"I was especially angry about it," she said of the attack 300 miles away that killed three people and injured more than 170 others. "It's such a great day. It's just a really festive, fun day, and to have it marred that way, people will be remembering it for a long time."
Griffin said two of her store's employees ran the marathon with four Fleet Feet customers who had signed up for a marathon training program sponsored by the store. The two employees ran the race to coach the customers.
The employees and customers finished the race and left before the two bombs exploded near the finish line, Griffin said.
"No one we know was injured," she said.
The Ann Michel Award formerly was called the Distinguished Entrepreneur Award for High Growth Venture. It was renamed after the death of its inaugural winner, Knowledge Systems & Research co-founder Ann Michel, in 2004.
The award is given annually to two women who have started Central New York-based businesses and grown them successfully.
Griffin said the award meant a lot to her.
"It means so much to be recognized locally because we're so happy to provide jobs in Syracuse," she said.
Griffin and her husband, Ed, opened Fleet Feet on Erie Boulevard in Syracuse in 2000.
"We were both recreational runners and found we could not get good advice on selecting a running shoe," she said. "Our process is talking to customers, looking at their feet and gait and matching them up with the best shoe for them."
They moved to a larger building on Bridge Street in DeWitt in 2010. The store has 40 employees.
Lois Ross, owner of New Dimensions and Dazzle in Manlius, also won the award Tuesday. Ross started her wholesale distribution business 34 years ago.
Contact Rick Moriarty at rmoriarty@syracuse.com or (315) 470-3148. Follow him on Twitter @RickMoriartyCNY and on Facebook at rick.moriarty.92.