Day #24
Roll Recovery R3

- $27

Shaped to target different areas of the Plantar Fascia.
Captures the inside, outside and center of the foot.
Also works great as small compact body roller.
Soft-touch surface has just the right amount of friction.
Compact, light weight makes the R3 easy to travel.
Day #23
Saucony ISO 3

- $150

Updated EVERUN midsole and Landing Zone under the heel for maximum energy return at heel strike
EVERUN Topsole construction for enhanced energy return and continuous cushioning throughout the run
ISOFIT creates a dynamic fit system by adapting to the shape and motion of the runner's foot
TRI-FLEX outsole design provides greater ground contact and optimal flexibility
Day #22
Bi-lateral wing design
Safely see and be seen from dusk until dawn
30 feet of visibility
Back facing red tail lights
Day #21
Nathan Sonic Storm

-

$40
Bring your large smartphone and other running essentials with this universal smartphone carrier built to withstand the elements. Performance fabrics and a water resistant zipper protect your phone if you're caught out in the elements.
Day #20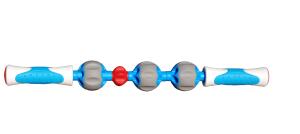 The Type C has Surface Skin Technology (SST) and a pinpoint precision gear that works great on the shin, soleus and achilles. The SST on the Type C is our medium feel version.
Day #19

The Nike Element Half-Zip Women's Running Top is made with sweat-wicking stretch fabric and half-raglan sleeves for a comfortable fit that moves with you. (we carry these in men's sizes too)
Day #18
Day #17
Generation UCAN

- $3.25 single serve pack or $60 for canister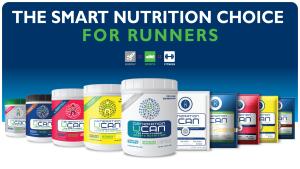 UCAN powered by SuperStarch delivers steady, long-lasting energy without the spike and crash of sugar-based fuels by keeping your blood sugar stable. UCAN has no sugar, added electrolytes, and is gluten-free. 
Day #16
 It's a towel that wraps, and a tissue that tucks into a sweatband around your wrist or hand. It's not just for running. Take it to the gym, on the bike or anywhere you need to catch what runs.
Day #15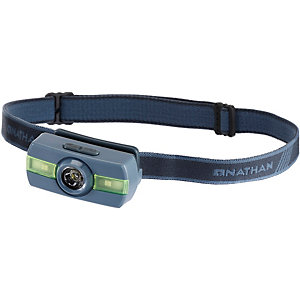 Bring added safety and color to your night run with the lightweight and powerful Neutron Fire. The primary LED kicks out a crisp 115 lumen spotlight, while the two side strobes offer RGB Light – red, green, or blue LED's for added visibility.

Day #14


Finally, a vest that doesn't squish the chest while providing comfortable fit and style for beautifully fit people of all sizes and shapes. The Astral features a soft touch binding, large quick stash with increased pack capacity without increased weight or bulk, easy in and out bladder holder, easy durable strap keeper, Soft micro fiber mesh body with bigger holes enables greater circulation, cooling and breathability.

Day #13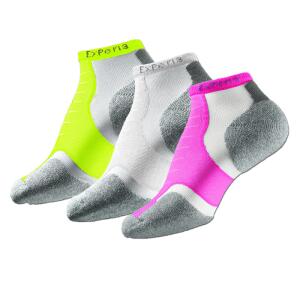 Buy 3 Get 1 Free now until Dec 17th
Day #12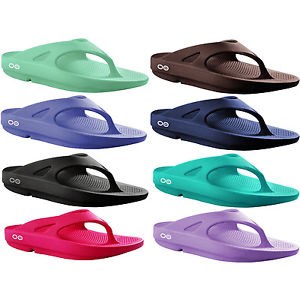 Biomechanically engineered to alleviate the foot stress and soreness caused by your daily grind. Perfect for casual wear, recovery after a grueling run, or relaxing after a long day on your feet. Slip into a pair and you'll immediately "Feel the OO".
Day #11
You won't find a more comfortable fitting band than SAAKA. Here's why: SAAKA will always fit intimately with the wearer's skin because of their exclusive closure system. Sections of vented (breathable) Velcro are placed on each band so that you, the wearer, determines the snugness, tension and comfort of the band.

Classic Velcro enclosure ensures a perfect fit
Absorbs 30% more than cotton 
Lasts 5 times longer than conventional bands 
Effectively Combats Odor
Cooler, thinner, lighter, better looking 
Maintain Professional Appearance
Easy care and maintenance 
Made in the USA 
Earth-friendly, sustainable product
Each purchase supports Sports Charities USA 
Day #10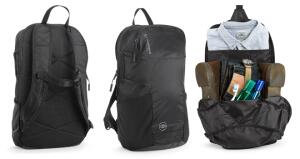 Internal back panel duals as a folding board for keeping your office duds in shape. Internal hook for easy hanging from towel racks, doors, etc. Machine washable; remove plastic folding board before washing. Reflective hits. Super-reflective bottom panel keeps you seen in low light.
Day #9
This flashlight, designed for runners, features an integrated 24-degree downward projection angle to focus light on the path ahead of you during the run – no need to twist your wrist! A rear-facing red LED gives you visibility from the back (great out on the roads). Maybe best of all? The Zephyr Fire comes equipped with a comfy and adjustable hand strap that allows for a totally grip-free and effortless carry in either hand. It even has a conveniently placed emergency siren built into the grip, right at your fingertips!
Day #8
The patented technology self-adjusts for different body sizes and targets the IT-bands, quads, hamstrings, calves, shins, gluteus, arms and more. It is easy to use, feels great on tired legs, and is small enough to take anywhere.

Features:
Patent-pending design provides all the force for a deep tissue massage.
Takes the "work" out of rolling.
Compact design for easy travel and transport.
Easy to use standing, sitting, or laying (no more rolling on the floor).
FDA Registered Medical Device.
Helps improve circulation, break up muscle adhesions and reduce inflamation.
Day #7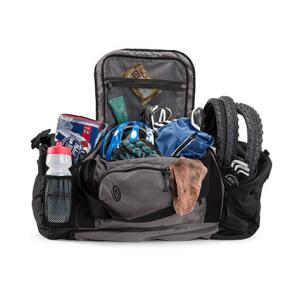 Detachable backpack yoke strap and dual grab handles make for an easy carry to the starting line
Crush-safe, tricot-lined pocket houses sunglasses, goggles and electronics
Large main compartment holds bulky gear like towels, a jacket and clean clothes
Large external water bottle pocket
On-strap bottle opener
Day #6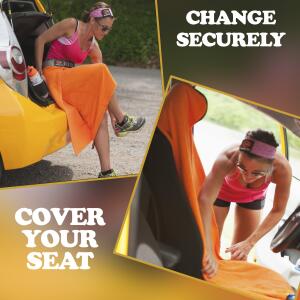 30" wide x 60" long
Impact resistant polymer clip
Laser cut super tough belt
Wash cold before first use, dry cool
Stays around waist securely
Zip on hoodie
Day #5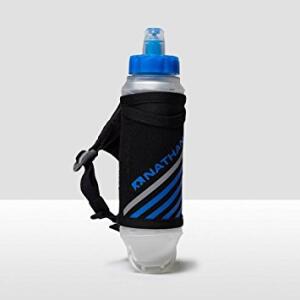 Take handheld hydration to the next level of comfort and efficiency with this grip-free, ergonomic soft flask.
12 oz / 355 mL soft flask with locking cap and bite valve keeps liquids from escaping
Integrated ExoSpineTM creates superior hand feel and support for the soft flask
Ergo-designed hand-strap provides grip-free comfort, and maximizes running efficiency
Hand strap is removable, allowing soft flask to be used with Nathan vests
Expandable stash pocket for nutrition and other small items
Day #4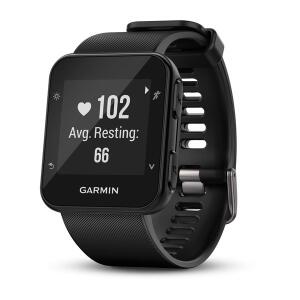 Easy-to-use GPS Running Watch with Wrist-based Heart Rate
Monitors heart rate¹ at the wrist, all day and night, using Garmin Elevate™ wrist heart rate technology
Built-in GPS tracks how far, how fast and where you run
Connected features²: smart notifications, automatic uploads to Garmin Connect™, live tracking and music controls
All-day activity tracking¹ counts steps, calories and intensity minutes and reminds you when to move
Automatically uploads² your data to Garmin Connect, our free online fitness community where you can join challenges, receive insights and share your progress as you meet your goals
Day #3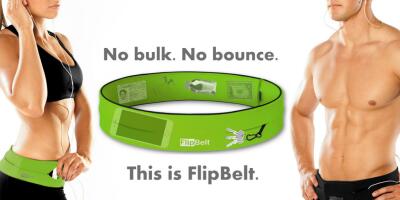 A sleek way to carry phones, cards, keys and cash.
Perfect width and design for minimal movement
Flat seam and piping construction for no chafe
Maximum stretch 
True active wear sizing
High quality micropoly/lycra fabric
Day #2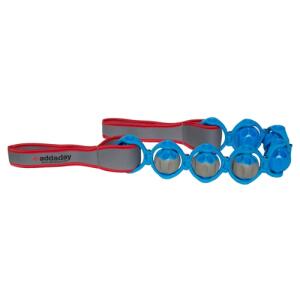 The Boomerang Roller with Surface Skin Technology (SST) contours around the body allowing it to reach hard-to-get to areas like the back and shoulders. The direction of the rollers also allow for great Cross Fiber Friction Massages. The Boomerang has 2 different density gears, one with SST and the other without SST for a harder massage. 
 Day #1 
Milestone Pod - $25
*Available in-store only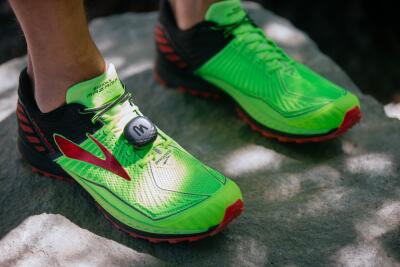 The #1 question we hear is when do I replace my running shoes? How you move matters, and with your shoe mileage, gait, and performance metrics you'll have the answer at your fingertips. 
A smart shoe odometer.
Know the total mileage of your shoes. No more manual tracking!

Gait and performance metrics.
Get unique foot-based data not available from other devices. 

A convenient GPS back-up.
The Pod works everywhere, even indoors. And no charging needed!