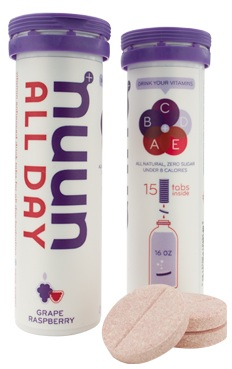 NEW Nuun All Day!
Nuun All Day Hydration helps you drink more water every day with crisp and refreshing flavors and is enhanced with an all-natural blend of vitamins and minerals making it perfect for your daily routine.
Rethink your drink with Nuun All Day, your family's perfect substitute for soda, juice and caffeine beverages.
Hydration plays an elemental role in staying healthy, energized and focused. Did you know dehydration is the #1 trigger of daytime fatigue?
Sugary and caffeinated drinks take you on a roller coaster ride during the day, but with zero sugar, under 8 calories per tab, and an all-natural blend of 17 vitamins and minerals, Nuun All Day keeps you going.