Running Changes Everything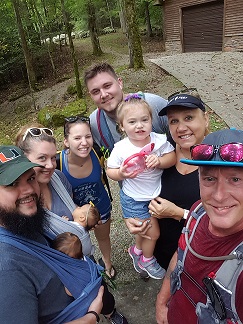 Running truly does change everything. I don't know when I actually started running. It feels like its always been there on some level. As the years went by, it became more important and my interest grew. I just always remember wanting to be a runner. When I was a kid, I came across a book at the library called "The Complete Book of Running" by Jim Fixx. Often, when I would go to the library, I would grab that book, study the cover, read and imagine being a runner.
My mom had a small cleaning business when I was young. Sometimes I would go with her and help out. One home she cleaned was in a more affluent community outside of Detroit. The thing I remember most was the running shoes by the back door. There would always be multiple pairs. Men's, women's and what appeared to be teenager's or youth running shoes. And I remember thinking, "this must be what active, healthy families do together, they run!" I had a vision of them all running together and it seemed like it would be amazing! It was at that moment I decided, when I have a family I want to run with them and have running shoes by the door.
One year, our son Tyler was home on Christmas leave from the Navy. He told Carolyn they needed to take me to Fleet Feet to get fit for "real" running shoes. He had been fit at Fleet Feet Chicago while in basic training at Great Lakes. I've never forgotten that day. It was a Saturday, I had gone for a run that morning and my feet were feeling pretty beat up. I thought we were just Christmas shopping and picking up gift cards at some of the local shops. As we stepped out of the car, Carolyn points at Fleet Feet and suggests we check out that little store, see what it's all about. We walk in and a young man asks if he can help. Carolyn tells him we're here to get me fit for shoes. I was very surprised but welcomed the chance to get some new shoes. Turns out it was the best retail experience I had ever had. I fell in love with Fleet Feet. It felt like a club house for runners, and I loved it.
Later that year, Tyler was stationed out in Coronado, CA training with the Navy. He called me to tell me about a 10K race he had just finished and how much he loved it. He told me how exciting it was, and there were so many runners and spectators cheering everyone on. This was the first road race he had ever done and he was excited. I pulled up his race photos on line and it looked very exciting! At that moment he tells me I have to start racing and that we should do a half marathon together. I had never done a road race or that distance but I was totally on board. It was his job to find the half marathon.
A few days past and he called back to tell me about a race called the Halloween Half Marathon in Jensen Beach. He would take some leave time and run it with me. I was super excited and a little worried because of the distance. Tyler also recruited his cousin to run the half marathon with us. I didn't have a training plan, I just went out every day and ran. That was my training, just go run.
Race morning had arrived. At that time, the Halloween Half started and finished in the beach parking lot of Jensen Beach on Hutchinson Island. It was a hot humid morning and I was trying to not let my nerves get the best of me. The race began and off we went. Tyler was faster so I lost sight of him pretty quickly. As we headed west toward the Jensen bridge the nervousness intensified and I wondered what I'd gotten myself in to. I had no clue how fast I was going and knew nothing about pacing. As I came over the bridge the nerves settled and I relaxed in to the run. I had no water, no nutrition and just a basic Timex watch. So no clue how well or poorly I was doing. I was just running to be running and loving being there with all of these runners and the cheering spectators.
The three of us successfully finished our first half marathon. It was everything he had promised a big race would be. My parents happened to be in town so they were at the finish along with Carolyn and some other family members. It was a great day and we felt incredibly proud and accomplished. I was officially hooked on racing and it set the wheels in motion for something I would have never imagined.
Carolyn and I were at a time in our career where we wanted to reinvent ourselves, do something exciting and new. We had always discussed opening a little specialty shop. I had been in retail years ago and enjoyed it. We just didn't know what kind of a store. As I ran I would always think, "What am I supposed to be doing with my life. I should be doing something I'm passionate about and love doing!" They say it's often right under your nose. What could it be?"
I kept thinking of Fleet Feet, couldn't stop talking about the place, couldn't wait to go back, and I could visualize myself being there. That lead to an email one evening to Susan and Al the previous owners of Fleet Feet Stuart. In the email I told Susan about my passion for running, how I had come across their store, how much I loved it and could we meet. Susan invited me in for an interview. We had a great conversation and she offered me a part-time job making very little. It wasn't about the money, but doing something satisfying and fulfilling. It seemed like a step in the right direction.
I went home after my first day and told Carolyn, "I love this place. It's what I want to do for the rest of my life". I couldn't remember the last time I had felt so excited about work. I was getting to do what I what I loved and it felt so good helping people and it was incredibly rewarding. Carolyn had supported every decision I'd ever made and this was no exception. Years later, Susan (former owner) told me after I left that first day that Al didn't think I would work out. I continued showing up every day to work my shift and I loved it more each day. Several months had past, I went full time and Susan and Al started discussing retirement, then Carolyn came on board. One thing led to another and we were fortunate enough to be able to take ownership of Fleet Feet Stuart not long after.
Our son Tyler, along with his wife Mackenzie, now have Fleet Feet Tallahassee. Our daughter Megan, who lives in Chicago, trained for and completed her first half marathon this year. All while having a full time career and raising one year old twins. Watching her cross the finish line was a very proud moment for us.
My passion was literally under my nose. It was running, and my feet that carried me all of those miles while I cleared my head of the day's stresses. I love visiting our kids for obvious reasons, but when I look down and see running shoes parked by the door, it feels really good. We are a running family. Running changed everything.
Running is a powerful thing and we get to see it every day. It changes lives in so many ways. We've seen people who said they couldn't run come and train with us and eventually cross a finish line. I've never seen a sport so powerful. It doesn't matter how old or what shape you're in, you can run, you can train and eventually cross that finish line. You may not have paid sponsors or stand on a podium, but the feeling of finishing that training program and crossing the finish line changes your life. You may not care about racing or crossing a finish line, but the basic motion of putting one foot in front of the other and running, however slow or fast, changes lives.
Come run with us. Join us at one of our Fun Runs or try one of our training programs. Even if you don't care about a race, you can run with a positive group of people with the desire to change.
Running Changes Everything.
Edgar