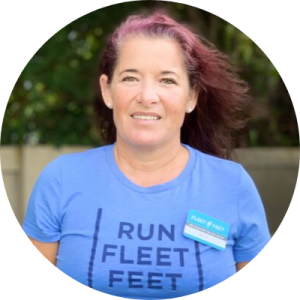 Mily's love for running began accidentally—she did it to support a friend and fell in love. Mily's first race was the 2019 Fleet Feet Stuart Run For Your Heart. Although she declares she runs to "burn off the crazy", she is a running rock star, completing her first half-marathon in March 2020.
Family is important to Mily and she is happiest when all her children get to spend time together. She tackles life and running by setting small goals and not stressing about things she can't control—traits she hopes to instill in her children.
Mily was born in Cuba, is bi-lingual, and most weekends you can find her conquering one of the Treasure Coast's bridges and causeways.
Locations
Stuart
Fleet Feet, 2440 NW Federal Hwy
Stuart, FL 34994
M-S: 10 a.m. - 6 p.m.
Su: 12 p.m. - 4 p.m.

View Store
Port St Lucie
Fleet Feet, 11586 SW Village Parkway
Port St Lucie, FL 34987
M-S: 10 a.m. - 6 p.m.
Su: 12 p.m. - 4 p.m.

View Store