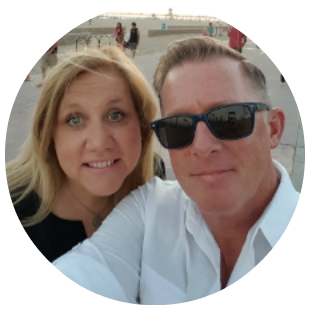 Carolyn and I have been together since high school. We have a beautiful daughter and son who are both married and we have 4 adorable grandchildren. I started running years ago as a way to stay healthy and just enjoy the outdoors. Our first visit to Fleet Feet was when Carolyn and our son Tyler, who was home on leave, brought me here for my Christmas present. Tyler had been fit for running shoes at another Fleet Feet and loved it! This was one of the greatest buying experiences I'd ever had. I had never had a running shoe that felt so amazing! I went home and put my shoes under the Christmas tree. I would take them out for my run, box them back up and put them back under the tree. You never forget your first pair of real running shoes, it was the best!
Carolyn and I had been in the corporate world for 30-plus-years so a great customer experience was extremely important to us and so rare. When I left Fleet Feet that day, I couldn't stop thinking about it. Little did I know that visit would change our lives. So when it came time for that life change, Fleet Feet just kept coming up. One thing led to another and here we are. And now our Son Tyler and his wife Mackenzie are the Operating Partners of Fleet Feet Tallahassee, so it's come full circle. It's become a real family afair and we could not be happier. We love being involved in our community. It's a great feeling helping customers reach their goals and live healthier lives. It's the perfect fit for all of us, we love it.
Over the years I've had the opportunity to run several ultramarathons, multiple full marathons, half marathons plus many 5 and 10K distances. Carolyn has ran multiple half marathons plus many 5K distances as well. We are very passionate about trail running. It's one of our favorite places to run. We also love stand up paddle boarding, hanging out at the ocean and spending time with our children and grandchildren. We're excited about our future, the future of Fleet Feet and growing our family business. We are so grateful for all of the support from our community. Running truly changes everything!
Locations
Stuart
Fleet Feet, 2440 NW Federal Hwy
Stuart, FL 34994
M-S: 10 a.m. - 6 p.m.
Su: 12 p.m. - 4 p.m.

View Store
Port St Lucie
Fleet Feet, 11586 SW Village Parkway
Port St Lucie, FL 34987
M-S: 10 a.m. - 6 p.m.
Su: 12 p.m. - 4 p.m.

View Store