Why Krav Maga Self Defense?
Krav Maga is based on simple principles and instinctive movements.  This reality-based hand-to-hand combat system is designed to teach real self defense in the shortest possible time.  

Krav Maga teaches people to function during the stress and shock of a sudden, violent encounter. 

Krav Maga's practical approach to self defense will make you safer and more secure. 

"So That One May Walk In Peace" – Imi Lichtenfeld.  
Meet Your Instructor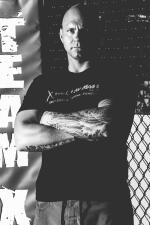 After training for 6 months, Steve Sulze was invited by Israeli Krav Maga Instructor Sam Sade who is one of the top instructors in the world. His goal was to become a certified Krav Maga instructor. He trained for a couple years with Sam Sade until he moved back to LA.  Since then he has trained with 4 time Golden Glove boxing & kickboxing hall of fame coach Kevin Bozada, Bas Rutten, Amir Perets, Darren Levine, Jon Pascal, Steve Berger, Ryan Hoover, J.W. Wright and more to continue to improve his knowledge and skills to pass on to his instructors and students.
Steve had the vision of running the best self defense facility in the Midwest and it became a reality in 2008 when he opened Xtreme Krav Maga & Fitness St. Louis, since then it has grown to be the awesome 10,000 sq. ft. facility in Gravois Bluffs where people travel from hours away to come and train at XKM.
Upcoming Workshops:. 
Cost is $20