Get Ready Kids - next session starts June 4th, 2018
The goal of Kickstarters is to instill in children ages 5 to 10 a lifelong love of running. Our 6-week, non-competitive, "open track" program gives kids the opportunity to experience running in a fun, friendly, and safe environment. Participants will learn good form, build strength and endurance, make friends, and experience how improvement is the result of consistent effort.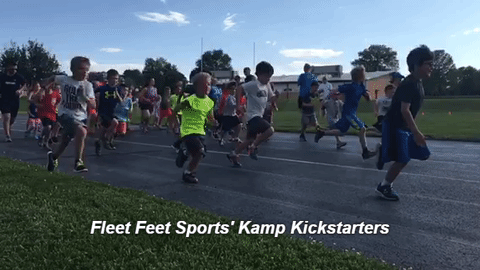 Program Perks:
We make running fun.  When children are having fun, they will 80% more likely continue doing whatever they are doing.  In Kickstarters, t

he kids earn a popsicle stick for each lap they run and at the end of practice they trade in their popsicle sticks for lap rewards (stickers, stamps, etc.)

   
Friendships and belonging.  Being with friends and enjoying a sense of belonging are far more important to get young children running, and keep them running, than incentives parents may use to get children to run.  

With friends, kids are anchored, secure, comfortable and ready to be engaged. Without them, kids are uncertain and less ready to take on new challenges.

Geared for success.  It doesn't matter how fast or slow each runner is, all participants will receive points and prizes for their achievements!
Building motivators.  

When children run because of the feeling of satisfaction and the simple enjoyment they get out of it, they are intrinsically motivated. Kickstarters will help with the extrinsic motivators like a self-designed Kickstarters T-shirt, water bottle, racing bib, and baton,  Extrinsic motivators have gotten millions of children running.
Practices will last about 45-60 minutes. After a group warm-up (stretches, form drills and running games), kids will be encouraged to run at their own pace and run as many laps as they feel comfortable running. Our goal is to have kids run/walk 4 laps (1 mile) each practice - though, by the end of the season many kids are running 2-4 miles – and still smiling at the end!
Program Details:
Kickstarters will be held on Monday evenings, starting at 6:00pm, running from June 4th through July 9th.

Sessions will be held at Lutheran High School of St. Charles County.  
The cost is $60

,

with sibling discounts available. Please email Brandi Barbre at brandi.barbre@fleetfeetstlouis.com for a sibling promo code. 
Parents are welcomed and encouraged to attend.  Heck, we might even ask you to volunteer passing out lap rewards!